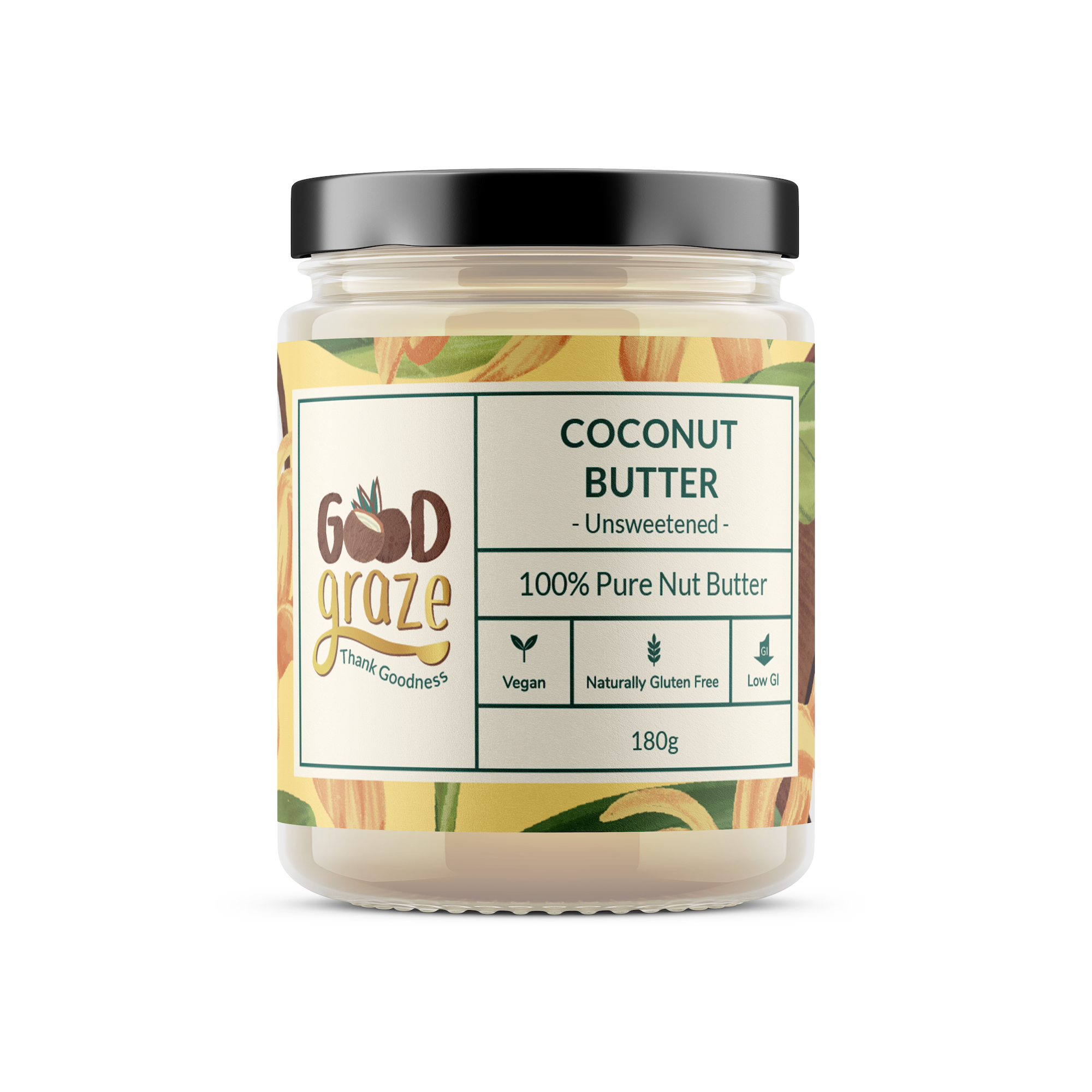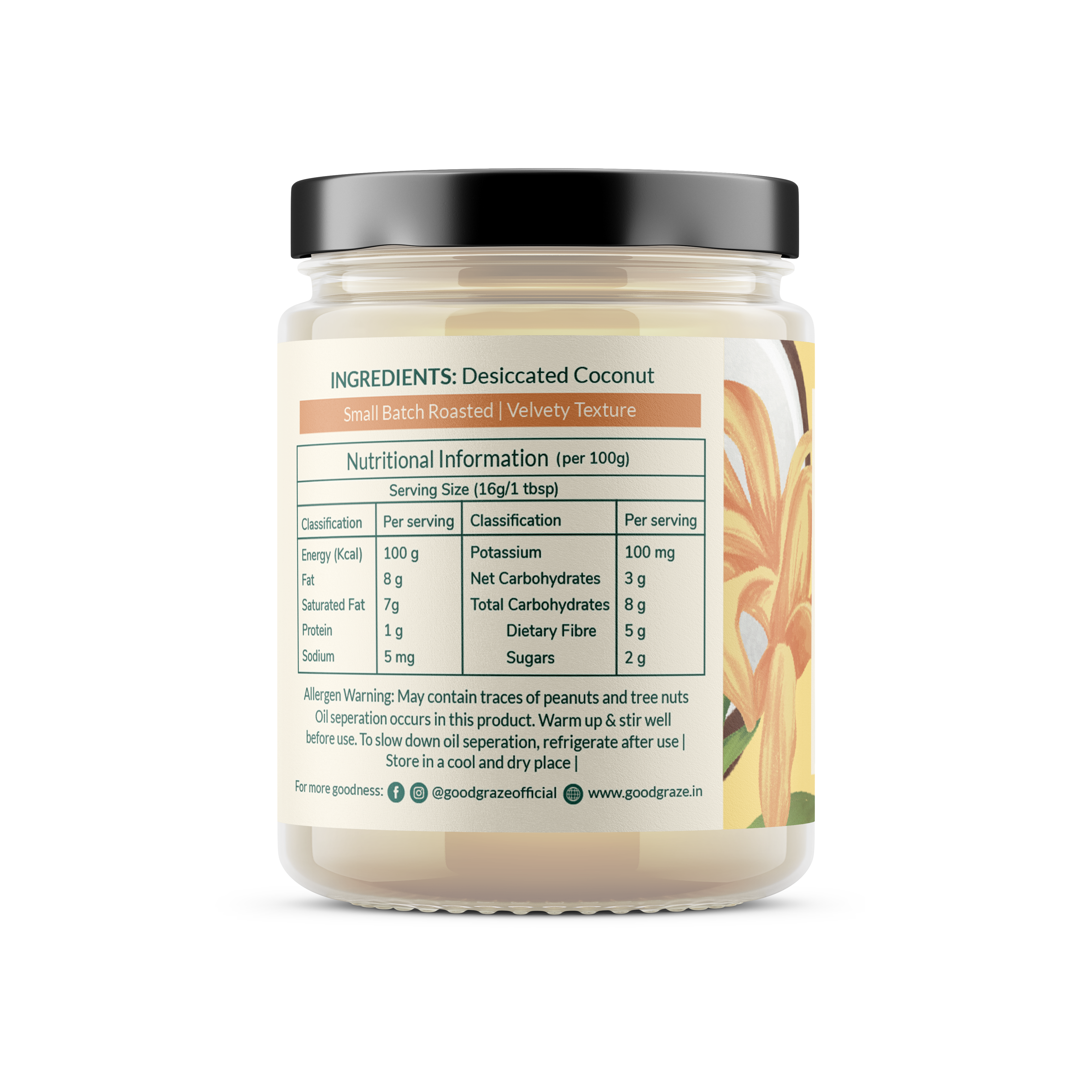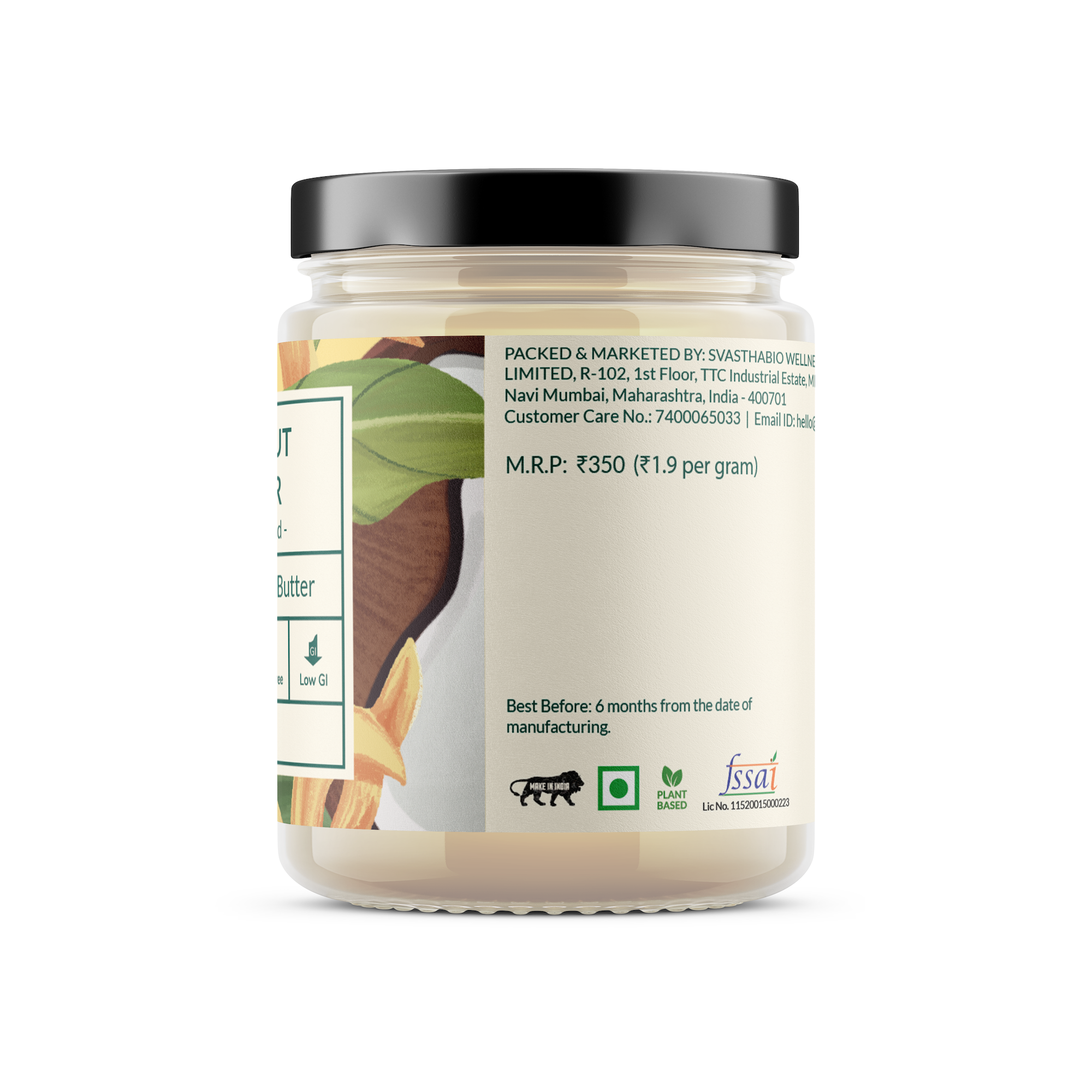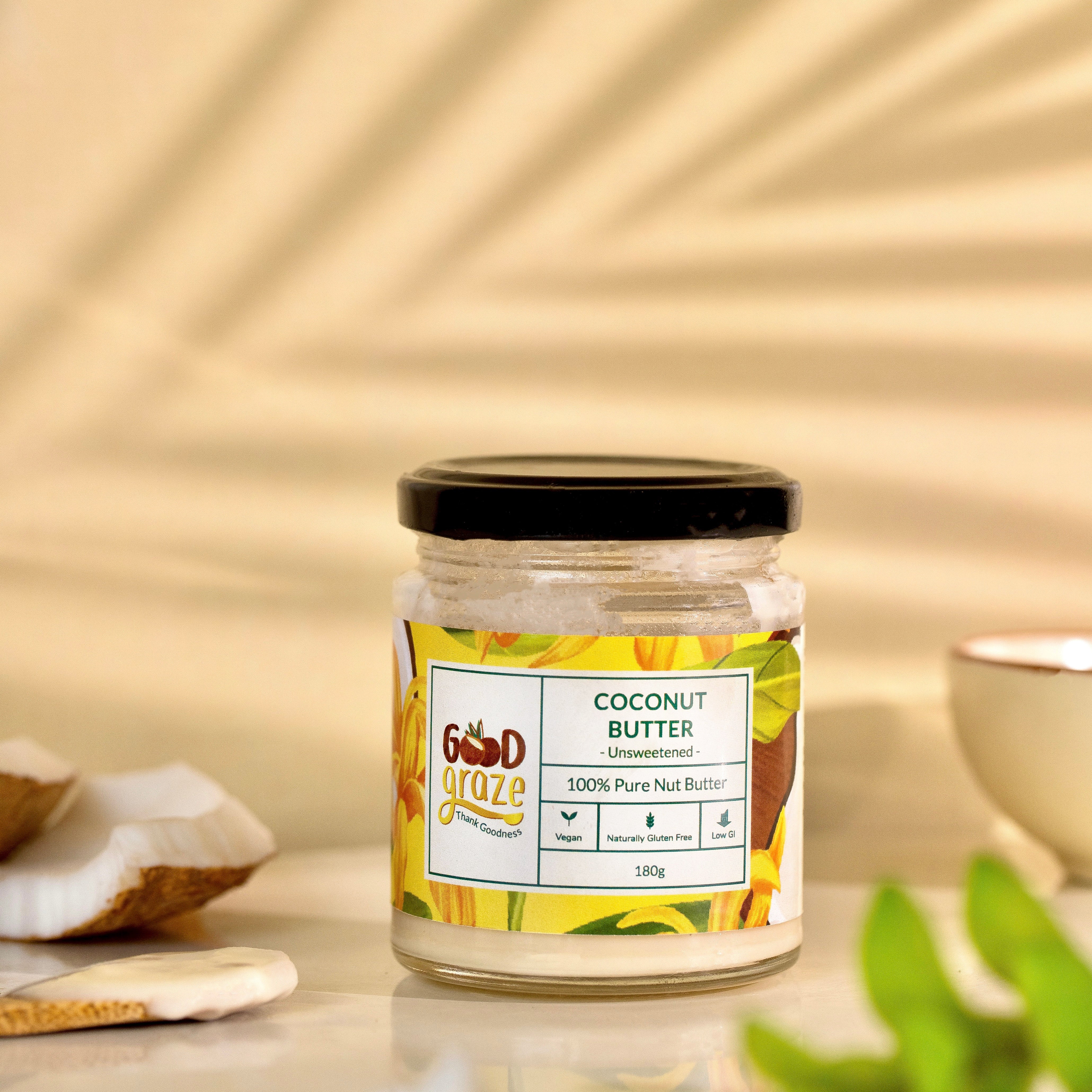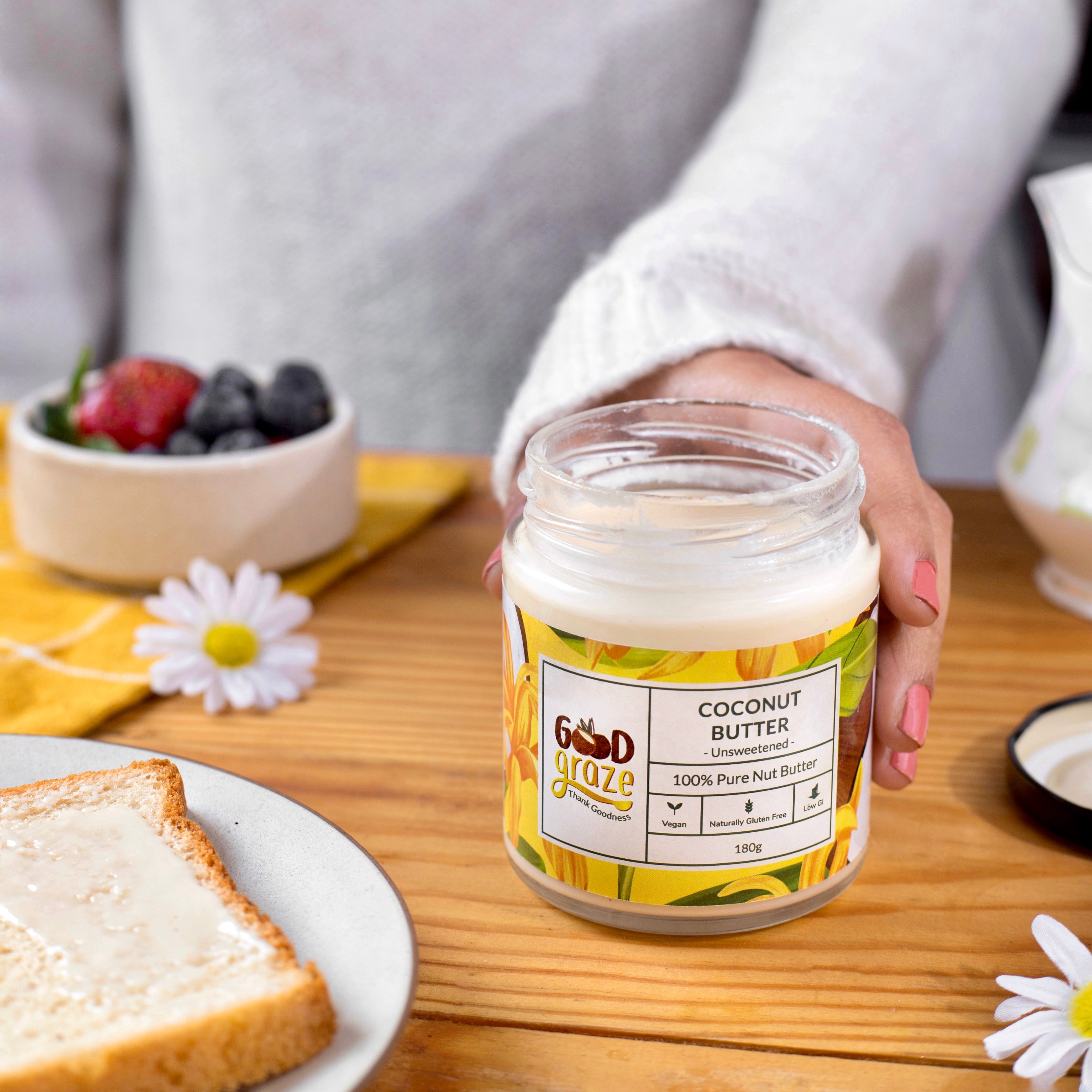 Coconut Butter • 180g
Coconut butter is a creamy and smooth spread made from pureed coconut meat. The natural oils present in the coconut help create a rich and velvety texture It's a versatile and flavorful ingredient that can be enjoyed in a variety of ways while providing nutrients.

Ingredient List - Coconut Flower Blossom Nectar

Net Qty - 180gm

Shelf Life - 9 months

Packaging Type - Glass jar
Nutritional Info
- 
- Store in a cool dry place
- Need to mix well before using
- Can heat in the microwave for 15 seconds before use to make the process of mixing easier
- There will be natural oil separation as we do not use any emulsifiers

- Use it as a delicious spread on toast, bread, bagels, or crackers.
- Can be incorporated into baked goods, such as cookies, cakes, and muffins, to add moisture, richness, and a hint of coconut flavor.
- Use as a substitute for regular butter or oil in some recipes.
- Adding a spoonful of coconut butter to smoothies or shakes can provide a creamy texture and enhance the flavor.
- Adds richness and a subtle coconut flavor to curries and stir-fries.
- Use it in desserts, such as truffles, fudge, energy balls, and raw treats.
- Can also be incorporated in homemade beauty products due to its moisturizing properties.
- Can be applied as a natural moisturizer for the skin, hair mask, or lip balm.

Rich in healthy fats, including medium-chain triglycerides (MCTs).

Contains essential nutrients such as dietary fiber, vitamin E, and minerals like iron, potassium, and magnesium.

Contains antioxidants, such as vitamin E, which help protect the body against oxidative stress caused by free radicals.

Healthy fats in coconut butter can aid in regulating blood sugar levels.

Helps promote feelings of fullness and satiety
May help reduce cravings and overeating, potentially supporting weight management goals.

Fiber content in coconut butter supports healthy digestion and can help promote regular bowel movements.

It can contribute to maintaining a healthy gut microbiome.

Coconut butter
Excellent product loved it great quality
Coconutty
It is really natural, tastes amazing, and is made from pure coconuts.
Quality is good.
The quality is good plus it's a vegan butter. I consume it for my health.