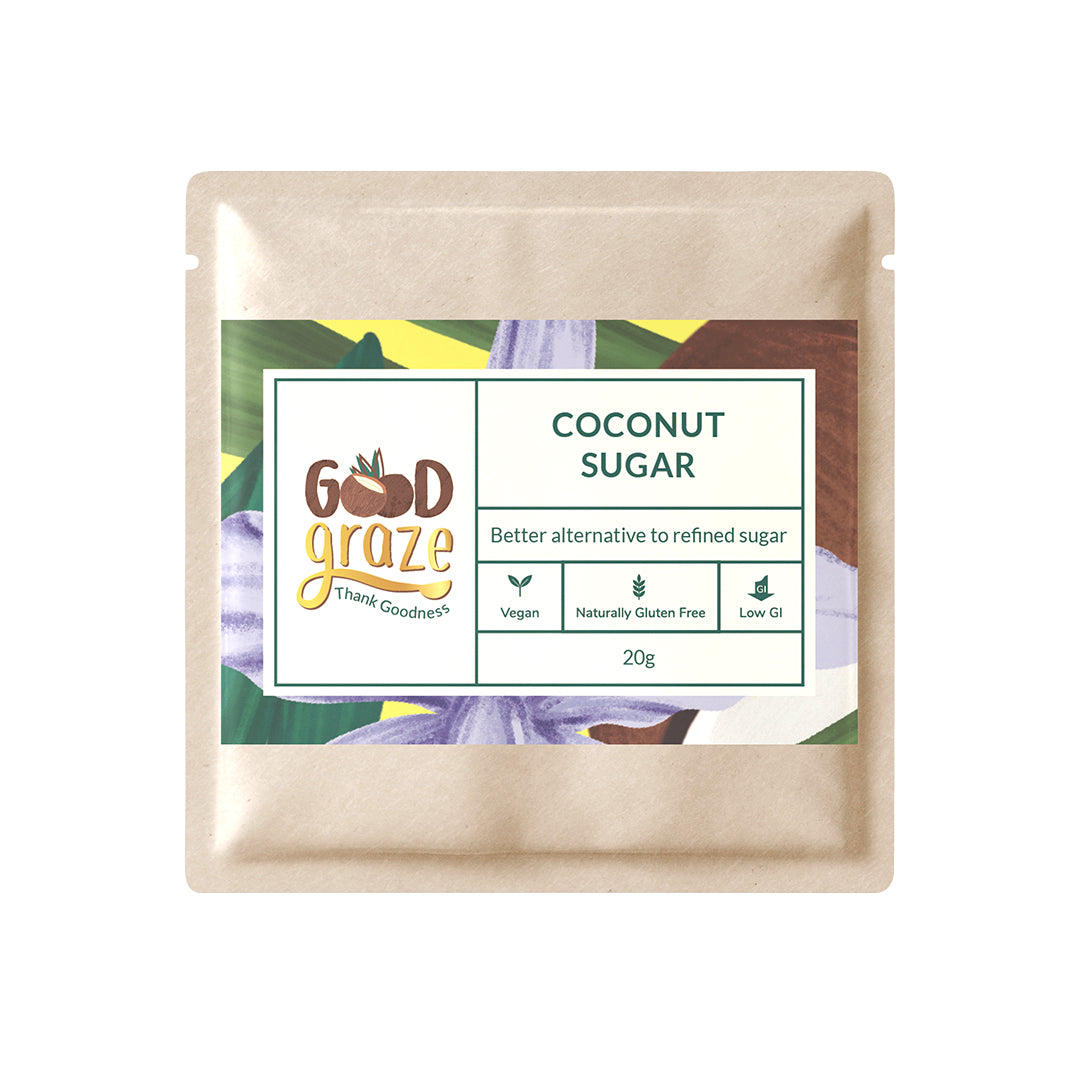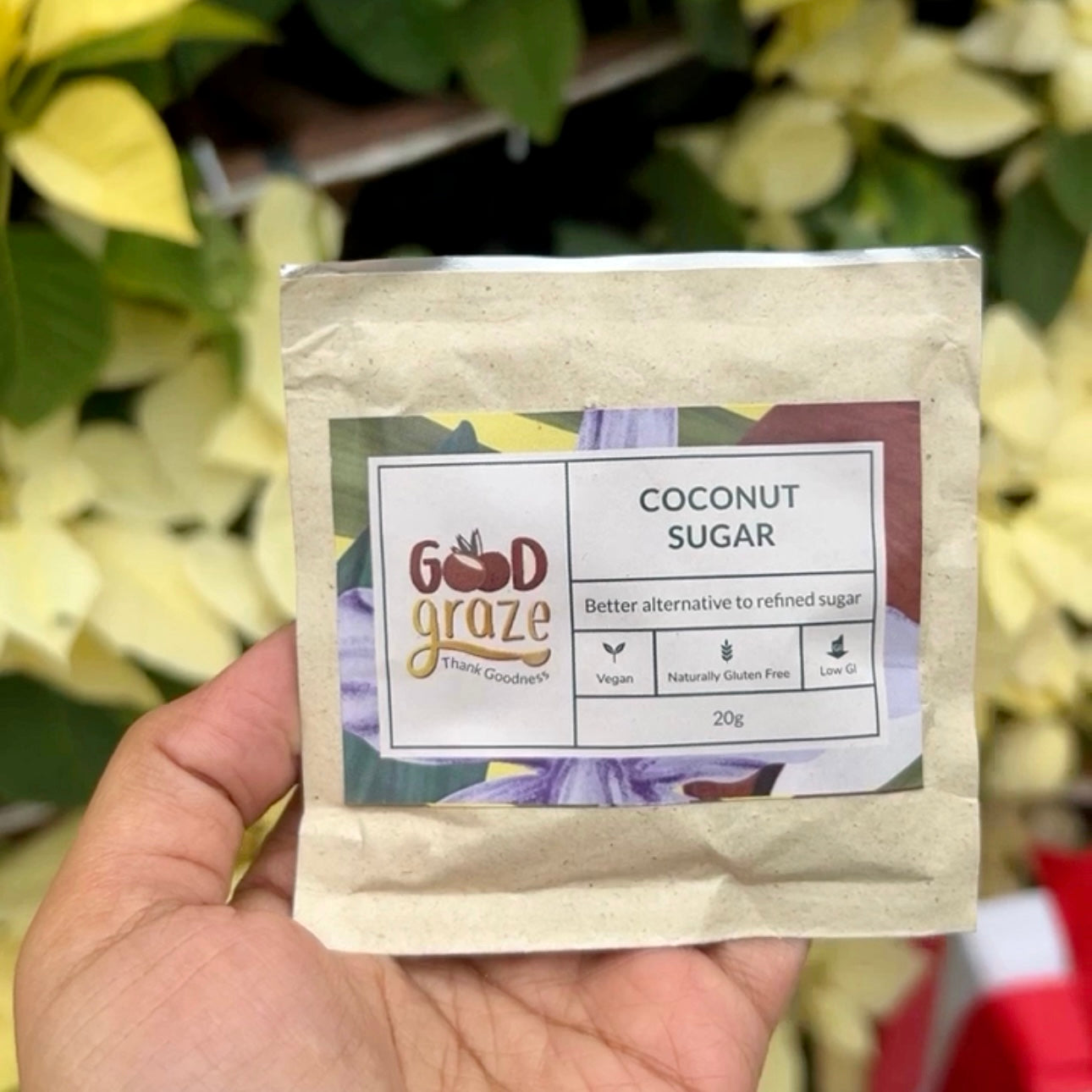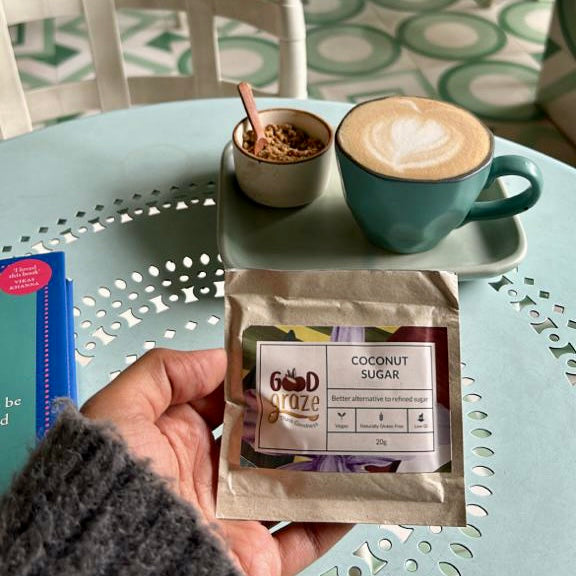 Coconut Sugar Sachet
Coconut Sugar conveniently portioned sachets are easy to carry so you do not have to travel without your favorite sweetener. It is loved for its caramel flavor, low glycemic index, and potential nutrients like iron, zinc, calcium, and potassium making it preferred among people.


Ingredient List - Coconut Flower Blossom Nectar

Net Qty - 20g

Shelf Life - 12 Months
 Packaging Type - Sachet

Nutritional Info -

- Store in a cool dry place away from direct sunlight
- Once its open keep it in airtight container

- Can be used to sweeten a variety of hot and cold beverages, and works well as a 1:1 replacement for refined sugar. It can be added to tea, coffee, smoothies, milkshakes, and even cocktails to provide a natural and flavorful sweetness.
- Used as a substitute for regular sugar in baking recipes such as cakes, cookies, muffins, and bread.
- It adds a rich flavor and a touch of caramel sweetness to baked goods.
- It can be used as a substitute for refined white or brown sugar in various recipes. It has a sweet taste with a caramel flavor, similar to brown sugar, making it a popular choice for cooking.
- Use on top of baked cereals, oatmeal, yogurt to improve flavor and add a hint of sweetness.

Unrefined and undergoes minimal processing, retaining more of its natural nutrients and flavor.

It is vegan-friendly as it is derived from plant sources and does not involve any animal products or by-products.

Naturally gluten-free, making it a suitable option for individuals with gluten sensitivities or celiac disease.

Lower fructose content compared to other natural sweeteners such as agave nectar or honey.

Contains inulin, a prebiotic fiber that reduces sugar highs and keeps the guts happy.

Low glycemic content makes it a preferable sweetener for those aiming to manage their blood sugar levels.

Travel friendly
So convenient to carry them when you are out. And it tastes yuummm
Healthy
Goodgraze coconut sugar sachets have made my mornings sweeter and healthier
my go to sweetener😍
Good Graze Coconut Sugar is the most genuine and well-made coconut sugar I have come across.