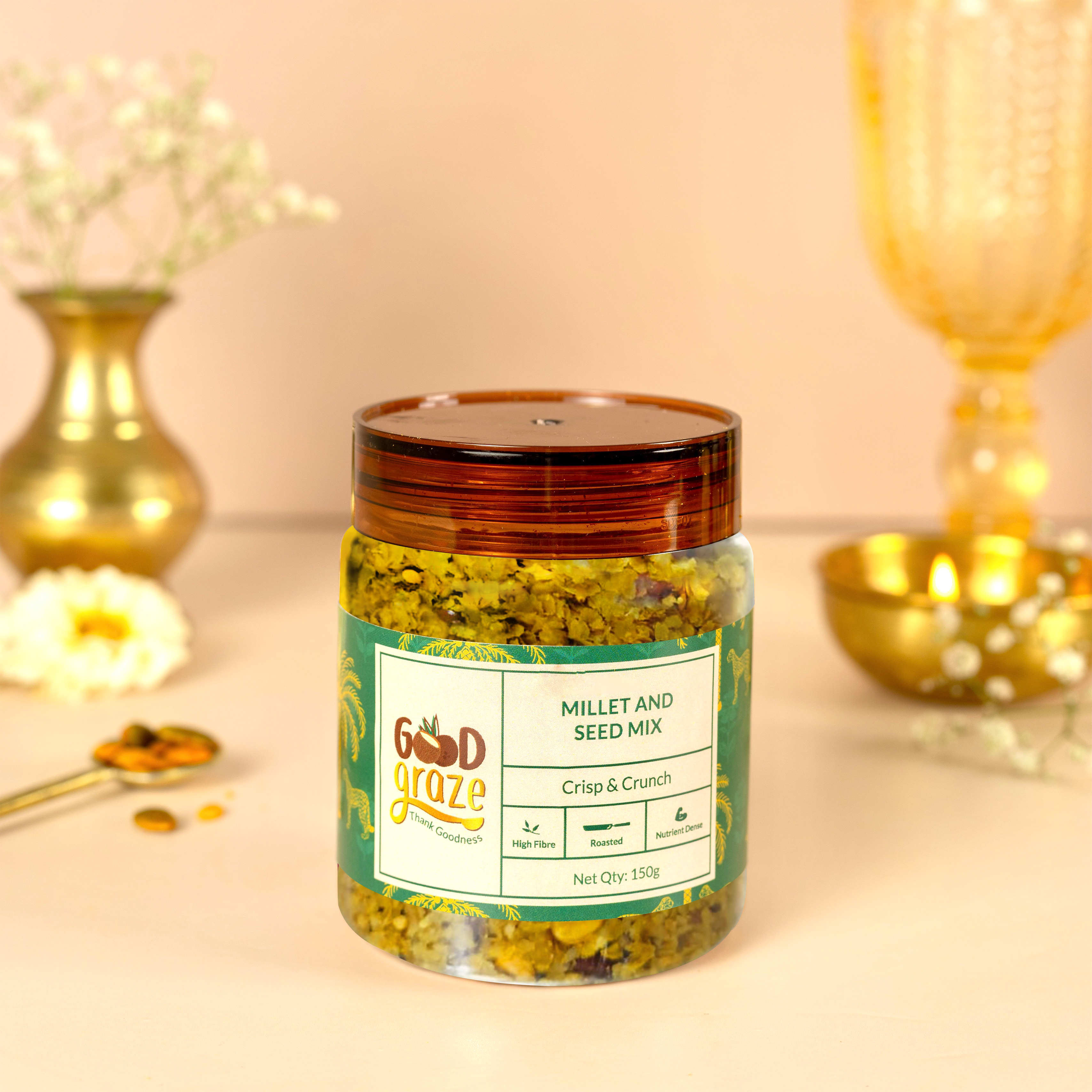 Millet & Seed Mix • Pack of 2 • 300 g
Elevate your snacking experience with our Millet & Seed Mix, a flavourful fusion of nutritious goodness. Packed with the wholesome essence of millet flakes, groundnut, coconut, sesame seeds, flax seeds, roasted dal, and an aromatic blend of spices. Whether you're looking for a quick, wholesome snack or a versatile ingredient to elevate your recipes, our Millet & Seed Mix is your go-to option.

Ingredients - Millet Flakes, Groundnut, Coconut, Sesame Seeds, Flax Seeds, Roasted Dal, Cumin, Mustard, Curry Leaves, Asafoetida, Turmeric, Coriander, Green Chilli, Coconut Oil, Brown Sugar.

Net Qty - 300gm

Shelf Life - 6 Months

Packaging - Food-grade PET jar

- Store in a cool & dry place, away from direct sunlight.
- Close the lid securely after use.
- Once open, store in the fridge to maintain freshness

- Start your day with a healthy and nutritious breakfast by mixing the Millet & Seed Mix with milk or yogurt. You can add honey or fresh fruits for extra flavor. It provides a crunchy and satisfying breakfast option packed with essential nutrients
- Sprinkle the Millet & Seed Mix on top of your salads to add a crunchy texture and a nutty taste. It enhances the nutritional value of your salad and makes it more satisfying
- Incorporate the Millet & Seed Mix into your baking recipes. You can add it to bread, muffins, or granola bars for an extra dose of fiber, protein, and flavor. It adds a unique twist to your baked goods
- Combine the Millet & Seed Mix with dried fruits, nuts, and a touch of dark chocolate to create your own trail mix

- Millet & Seed Mix contains groundnuts, coconut, sesame seeds, flax seeds, and coconut oil, all of which are excellent sources of healthy fats.
- Millet flakes, flax seeds, and roasted dal are great sources of dietary fiber. Fiber aids in digestion, helps maintain healthy cholesterol levels
- It can provide a quick energy boost when needed, making the mix a great choice for a pre-workout snack or an afternoon pick-me-up.
- Many of the ingredients in the mix have potential immune-boosting properties due to their vitamins, minerals, and antioxidants. Consuming these ingredients can help support your body's immune defenses.