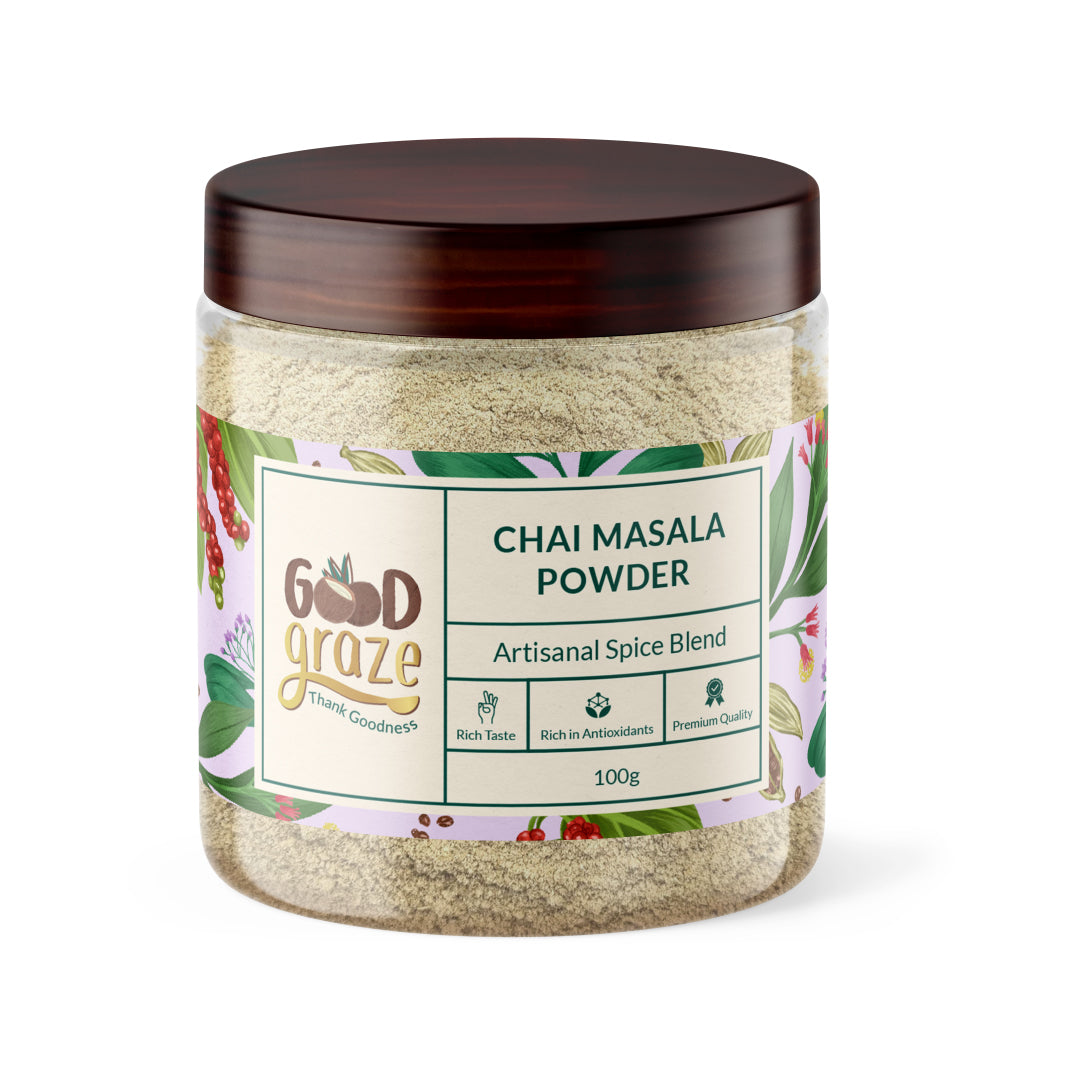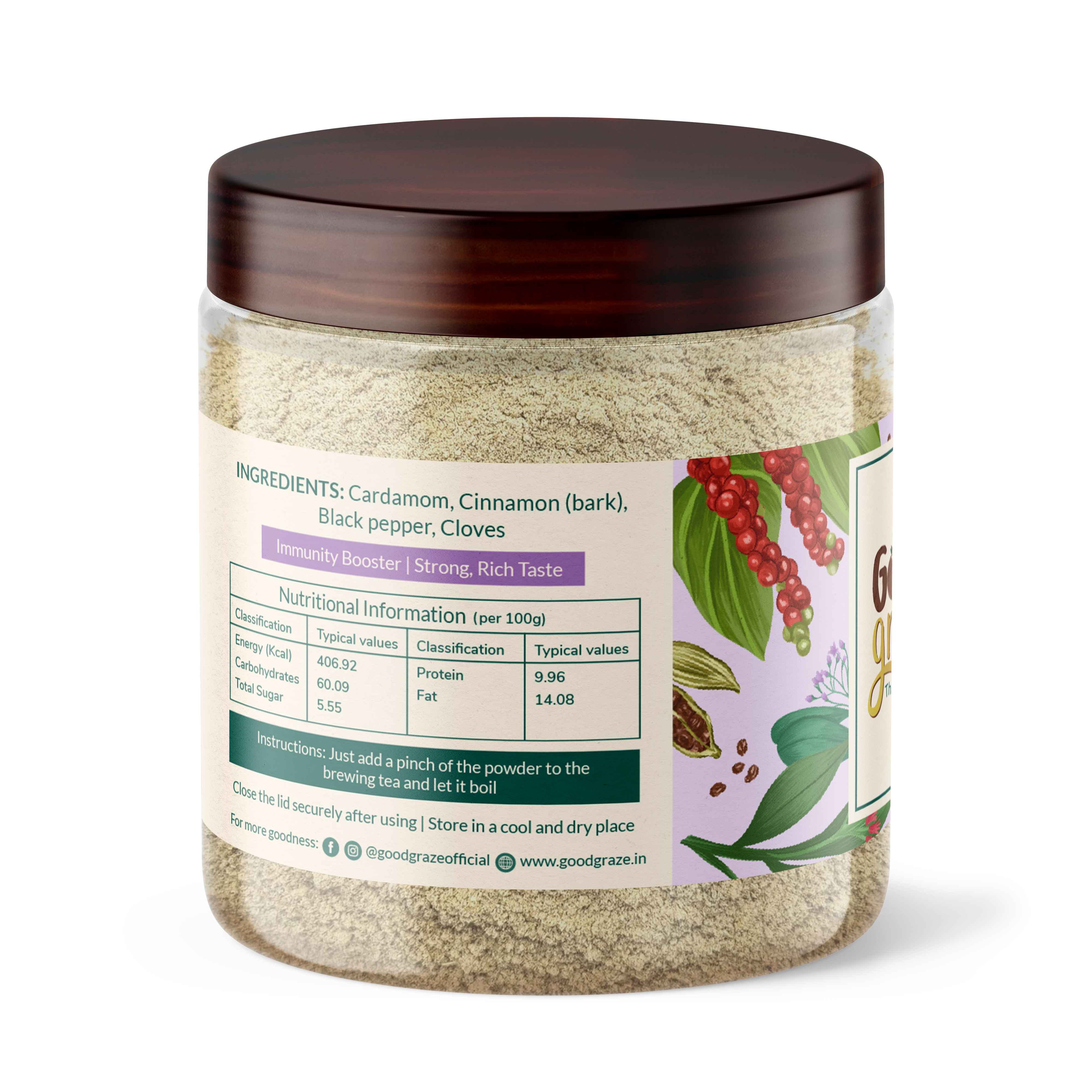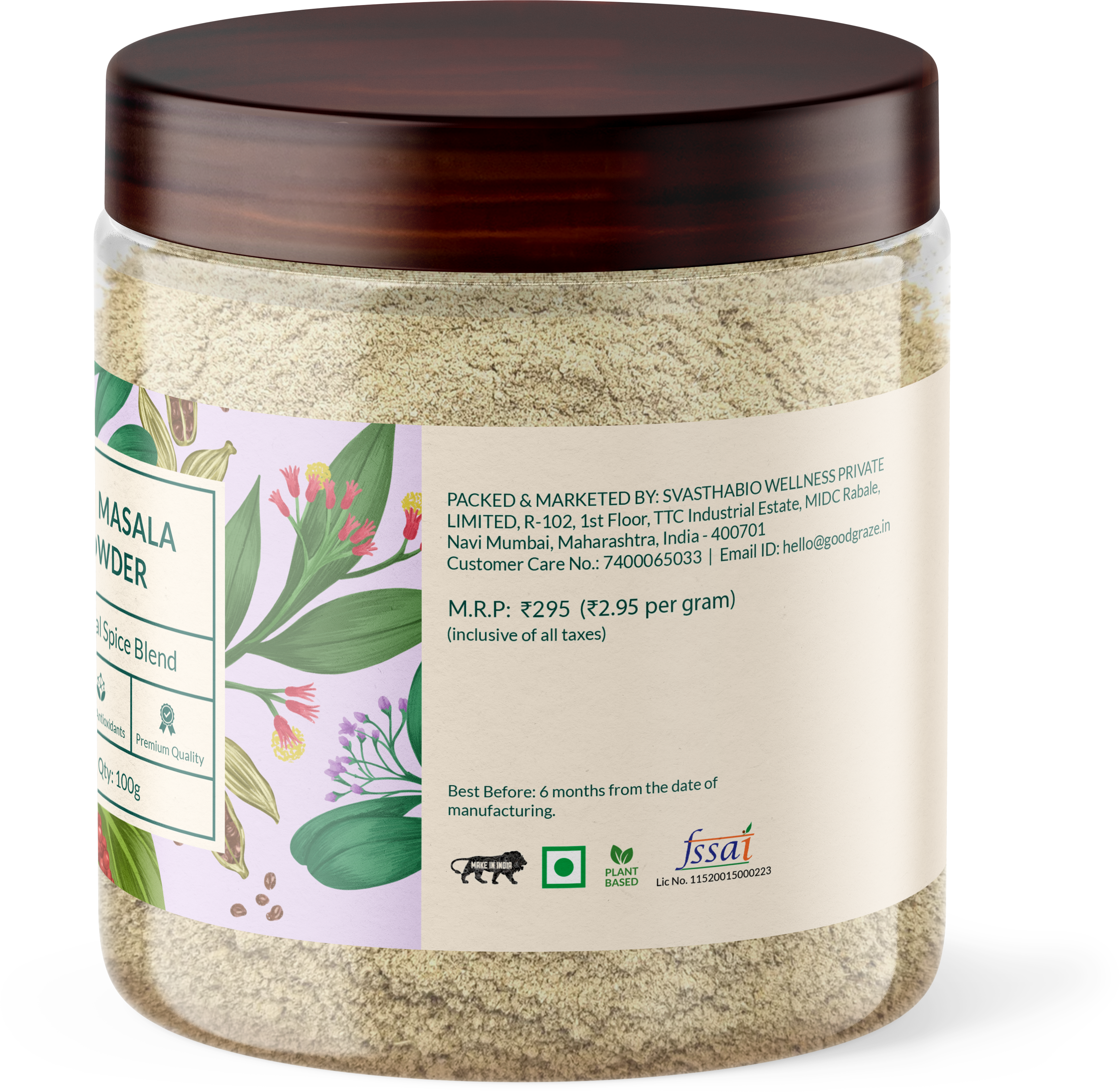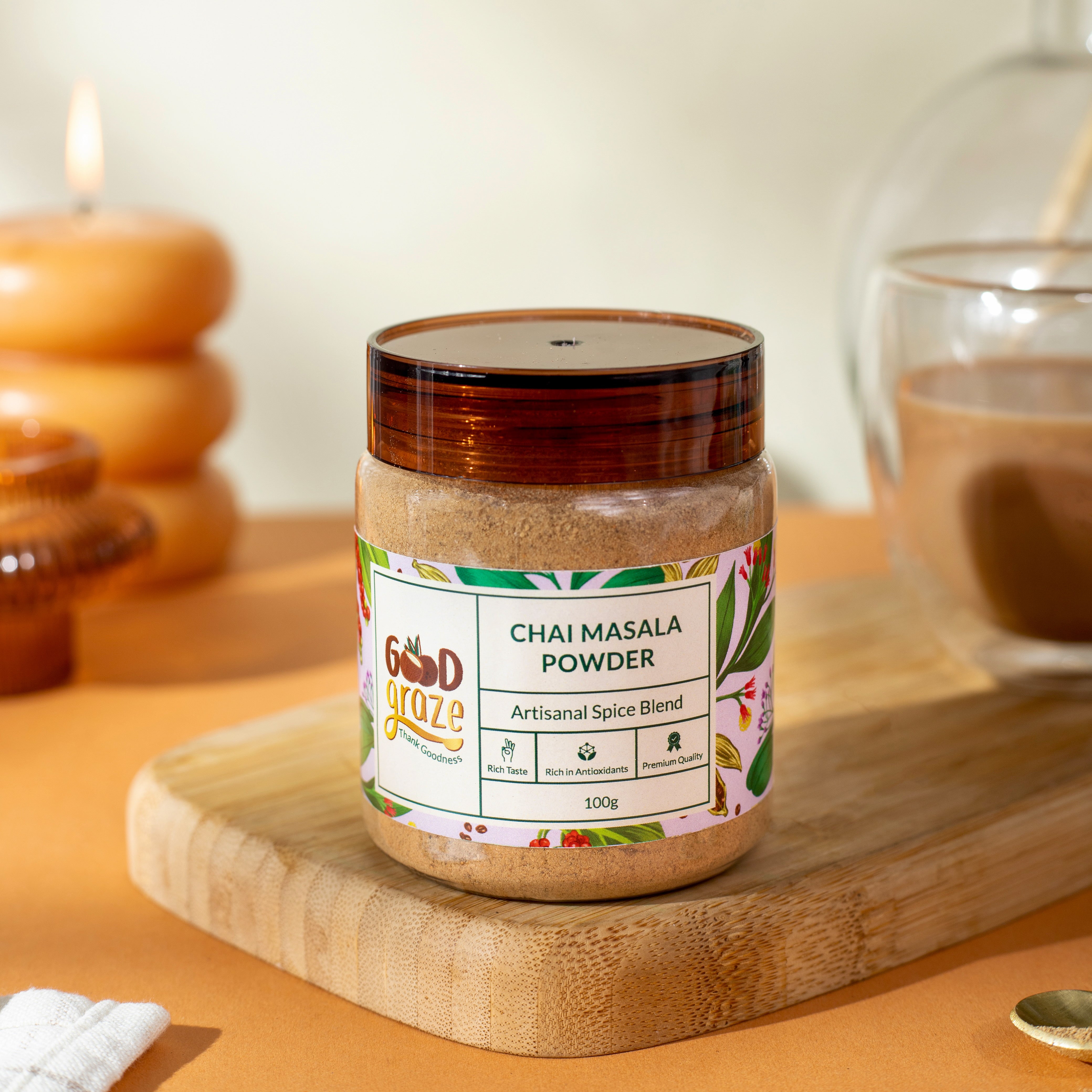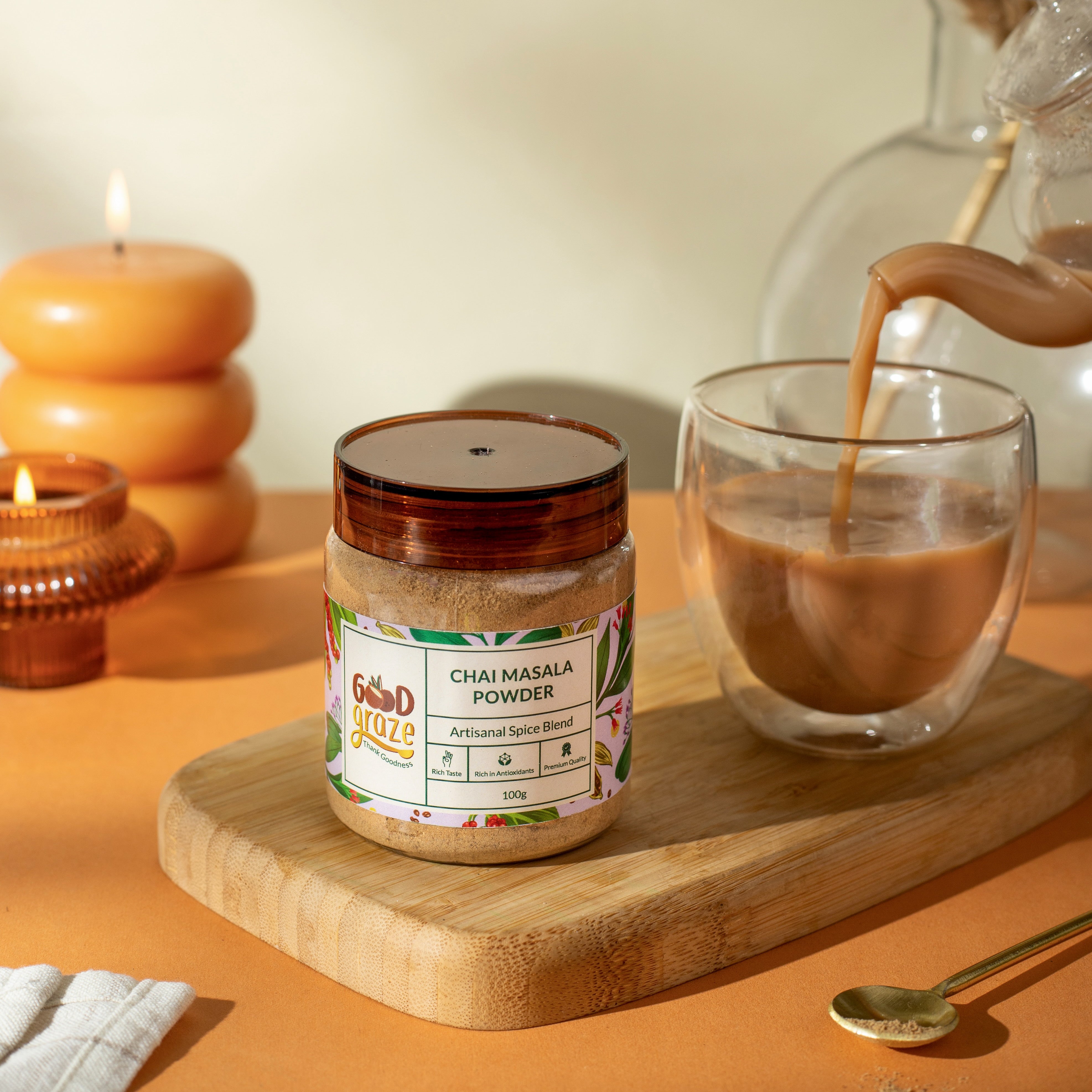 Chai Masala Powder • 100g
Introducing our Chai Masala Powder, a sensational blend of aromatic spices carefully curated to awaken your senses and bring the essence of traditional Indian masala tea to your cup. With just the right amount of kick to invigorate your mornings and the comforting warmth to soothe your evenings.
Ingredient List - Cardamom, Cinnamon (bark), Black Pepper, Cloves


Net Qty
- 100g
Shelf Life
- 6 months
Allergen Information - This may contain traces of tree nuts.
Packaging Type - Food grade PET jar
Nutritional Info - 


- Store in a cool dry place
- Use a dry spoon
- Close the lid securely after use

- Use it to create a flavorful and aromatic cup of masala chai.
- Can be incorporated into baked goods such as cookies, cakes, muffins, and bread by adding a teaspoon or two of chai masala powder to the dry ingredients of your recipe to infuse it with the flavors of the spices.
- Sprinkle it into your oatmeal or porridge while cooking to give it a comforting and aromatic flavor.
- Can be added to warm milk to create a delicious spiced milk beverage.

Includes spices like cardamom, cinnamon, cloves, ginger, and black pepper, which provide a warm and invigorating taste to the beverage.

Spices such as ginger and cardamom, have natural digestive properties which can aid in digestion, relieve bloating, and soothe an upset stomach.

High in antioxidant content which helps protect the body against oxidative stress, reduce inflammation, and support overall well-being.

Have metabolism-boosting properties that can help improve digestion, increase (the process of heat production in the body, and potentially aid in weight management.

Creates a sense of warmth making it a popular beverage during colder months or as a comforting drink after a long day.

Has a calming effect on the mind and body that possess stress-relieving properties and can help promote relaxation.

Refreshing
Really good. I have tried many tea masalas. But this one is unique and gives perfect taste for a great masala tea.