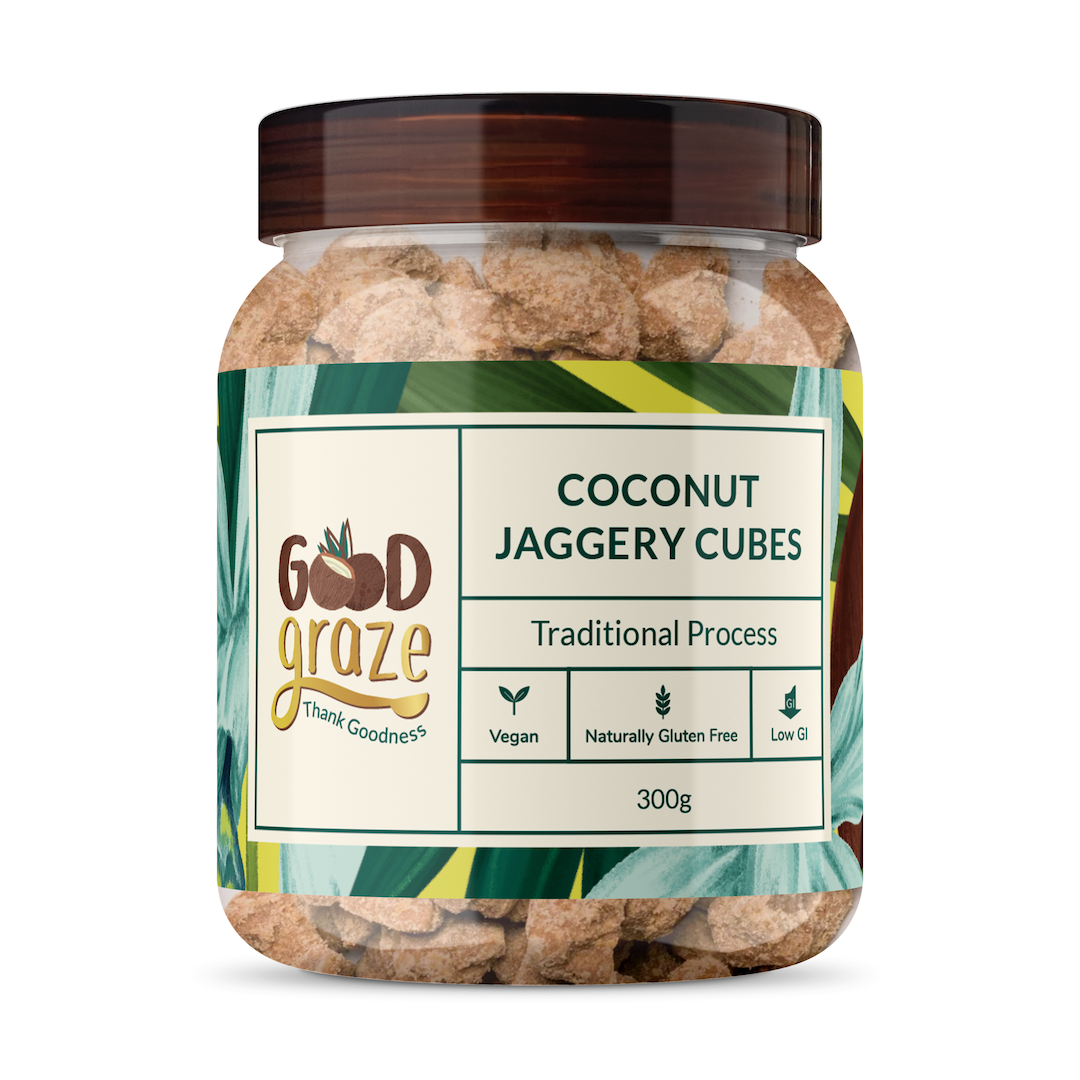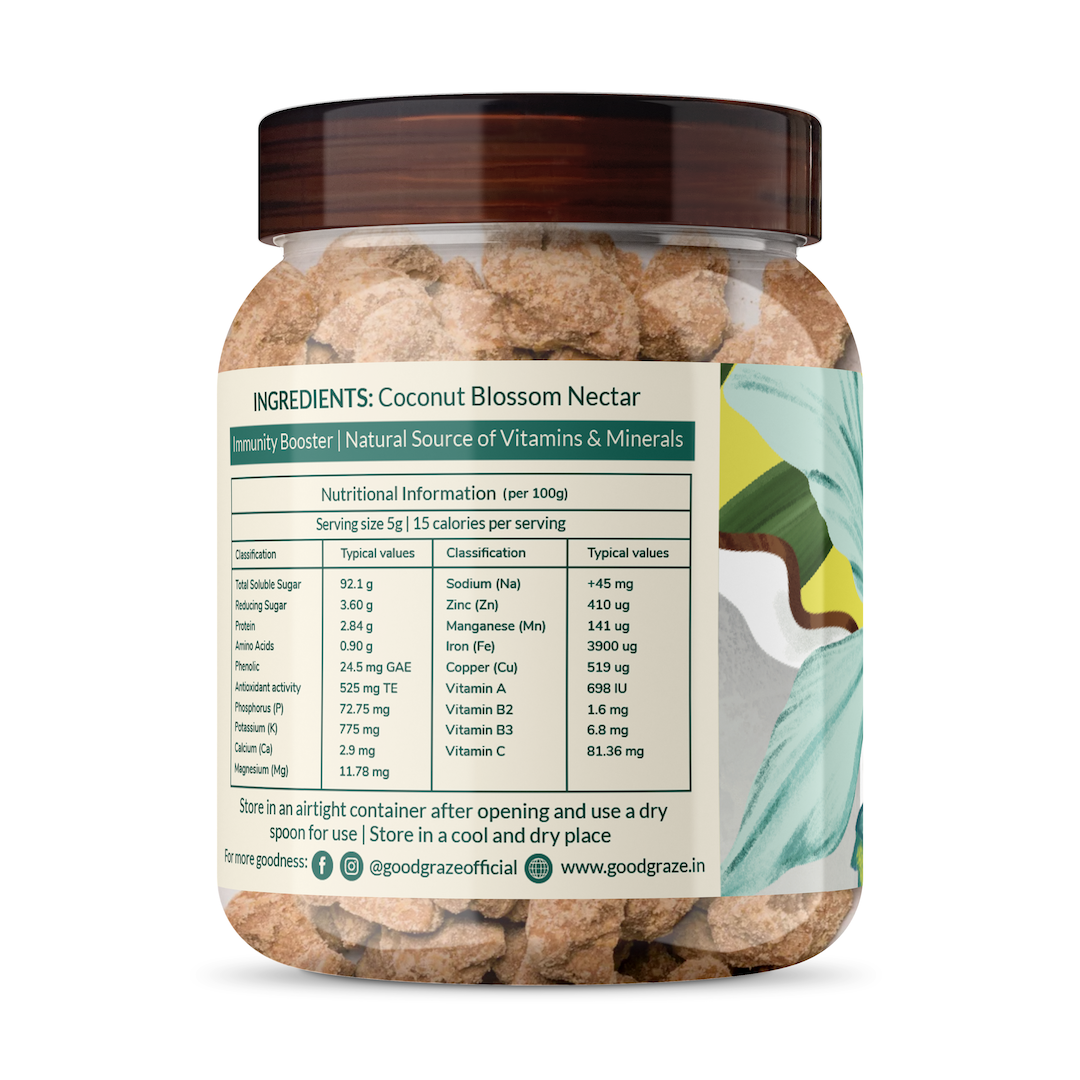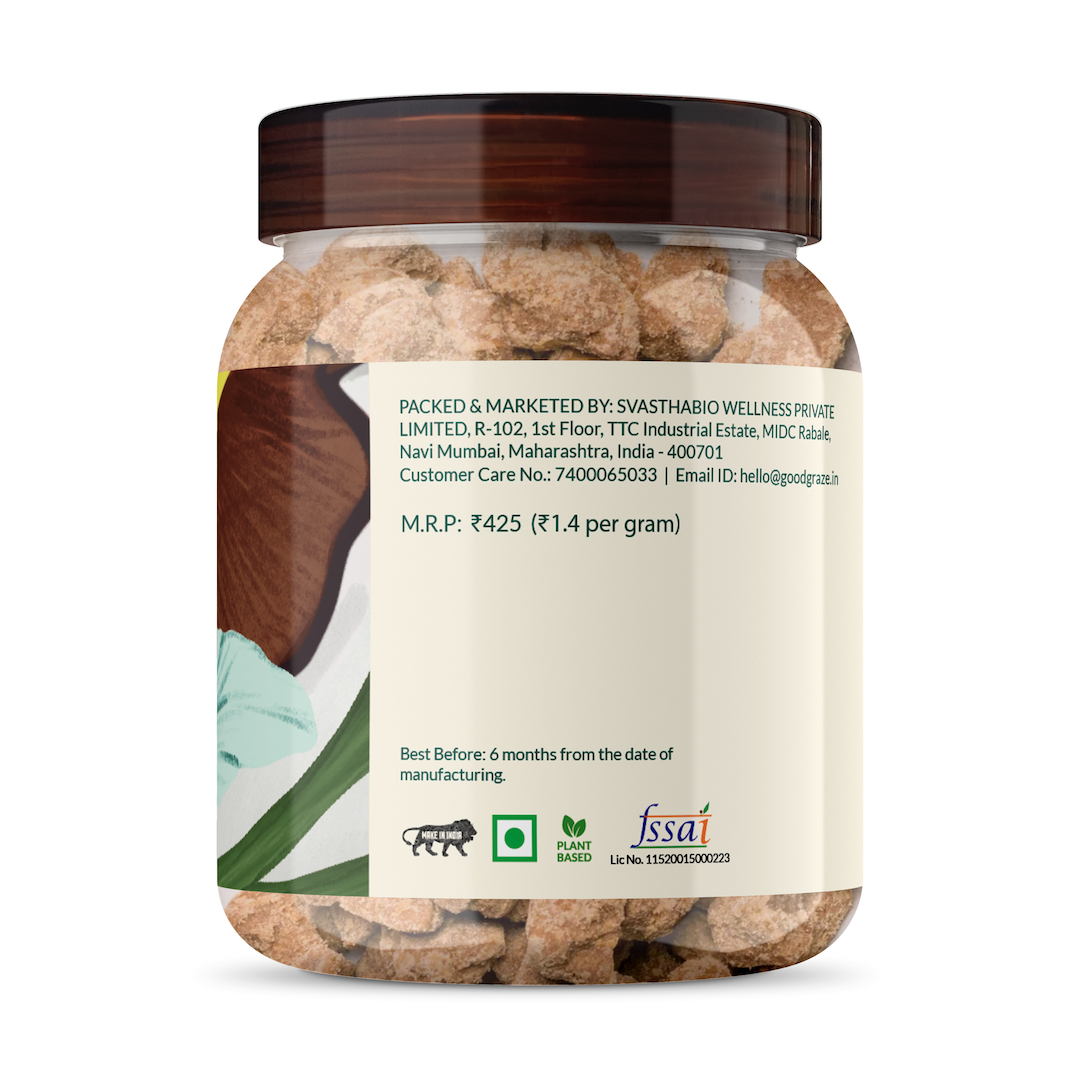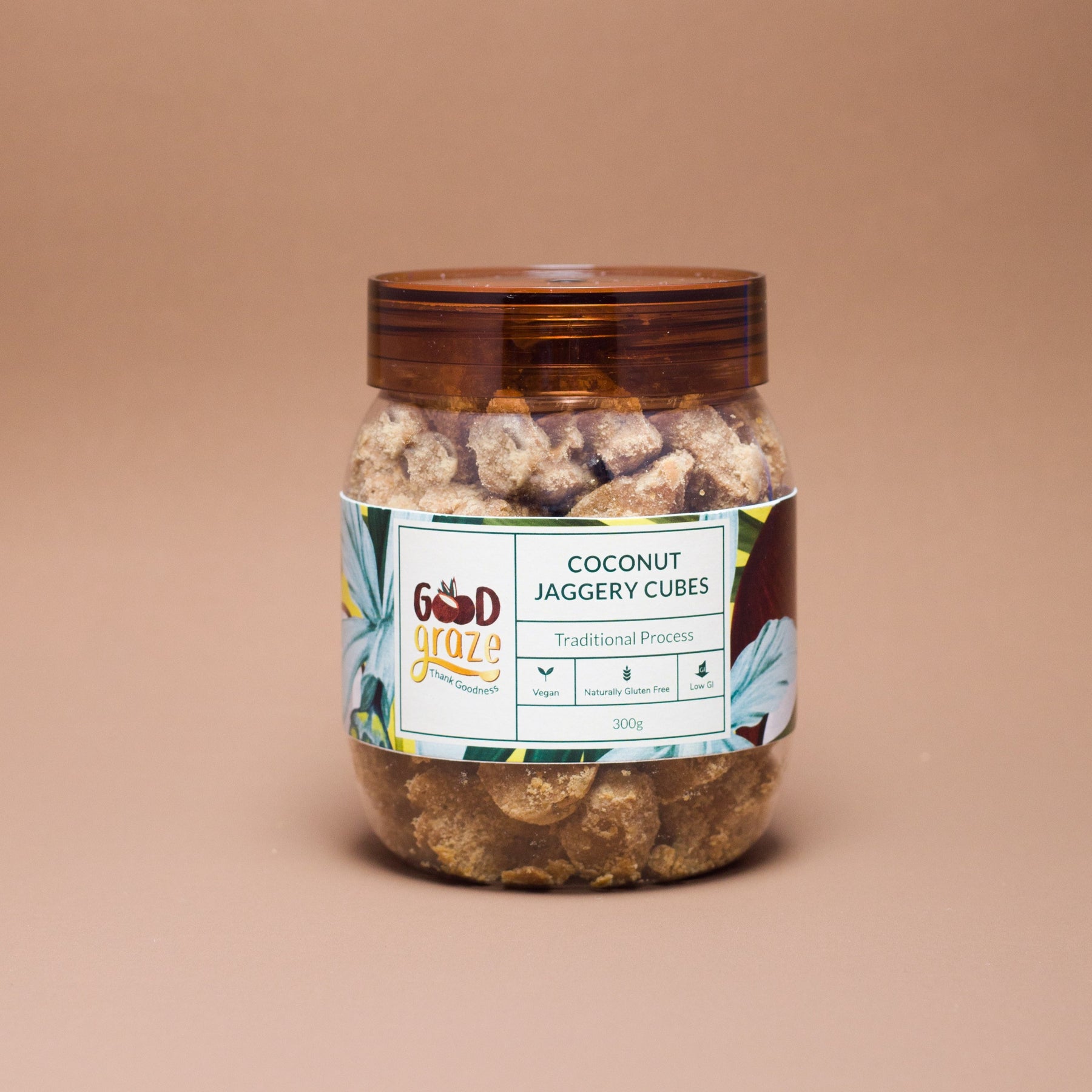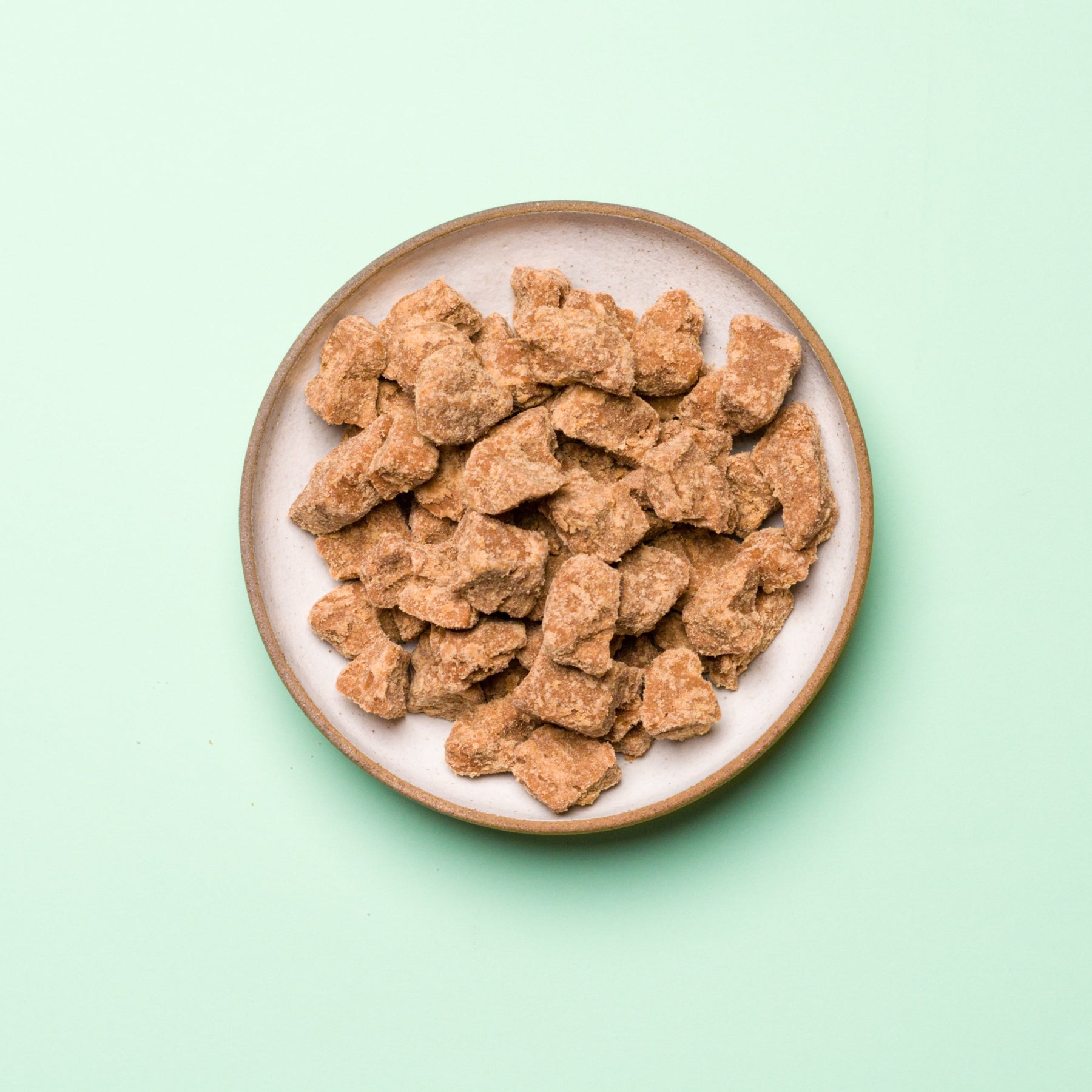 Coconut Jaggery Cubes • 300g
Vegan • No added preservatives • Low GI • Gluten free
Pure coconut flower nectar is used to make these coconut jaggery cubes.
One of the most desired natural sweeteners. It's a better choice than refined sugar and artificial sweeteners.
Immunity enhancer, energy source, and boost digestion. Our coconut jaggery is organically farmed, unrefined, and sustainably sourced.
Health Benefits
Coconut jaggery cubes contain inulin, a prebiotic fiber that reduces sugar highs and keeps the gut happy.
Coconut jaggery cubes are suitable for children, adults, and people aiming for a healthy lifestyle.

Ingredient List - Coconut Blossom Nectar.

Usage - Used as a natural sweetener for beverages, everyday cooking, porridge, cereal, milkshake, pancakes, cakes, muffins, halwa, and kheer.

Weight - 300 g
Shelf Life - 6 Months
Storage Information -

Good Graze coconut jaggery cubes are easy to store and can be used without any hassle.
Just keep them in the airtight container in which these come in and use them like any regular sweetener.
Packaging Type -
 Food grade PET jar 
Nutritional Info -
Works for me
Overall it is a good option for people who are diabetic or do not prefer sugar
Fantastic taste
Great flavor and texture. With time, it becomes tastier the darker it gets. Highly suggested
Superb Product!!
I bought it for my family and they loved it.
Favourite sweetener
Have been using the jaggery cubes to sweeten my coffee since the past few days and absolutely loving it.
Very Healthy
Very good to diabetic patient. Substitute if normal sugar. Quality is good at this price