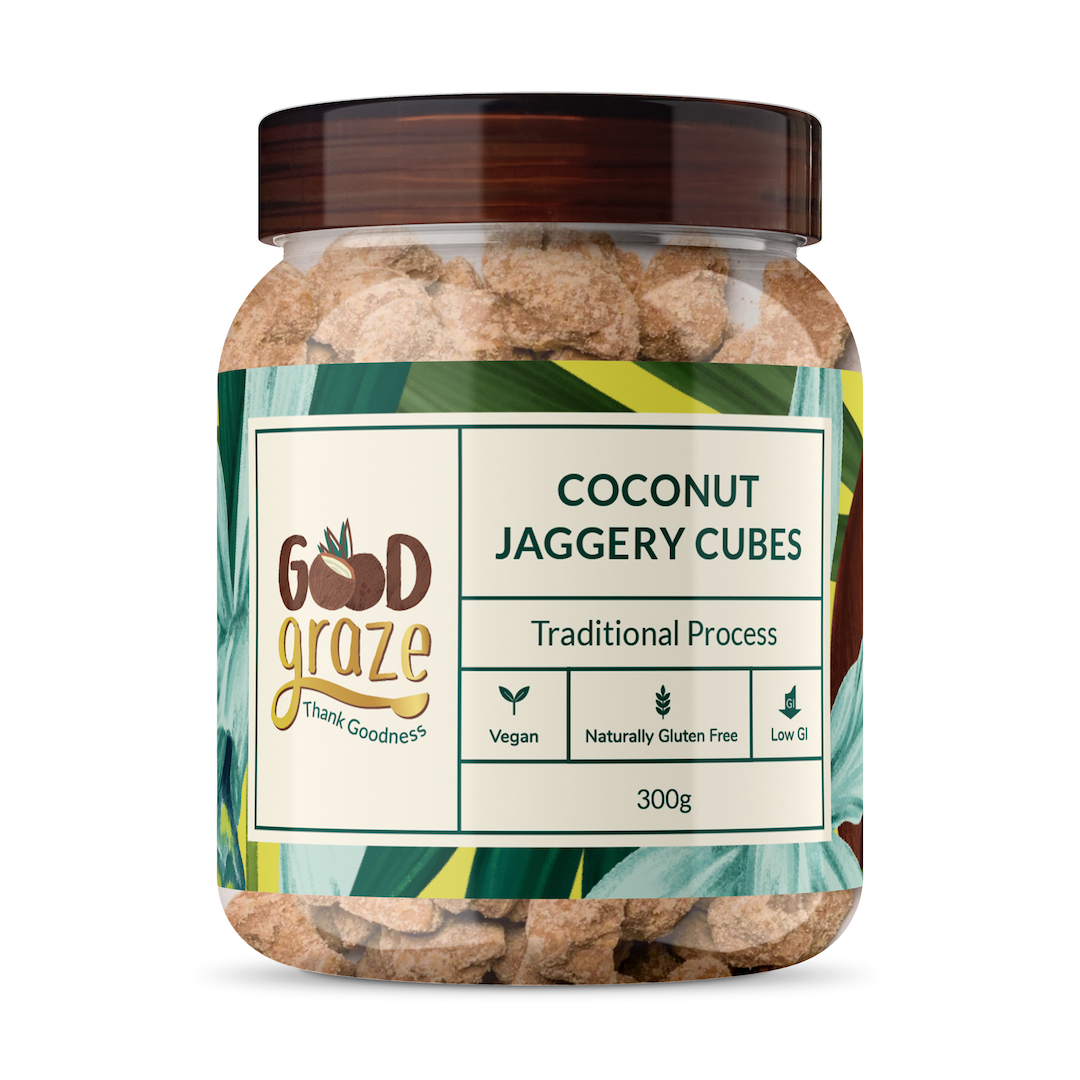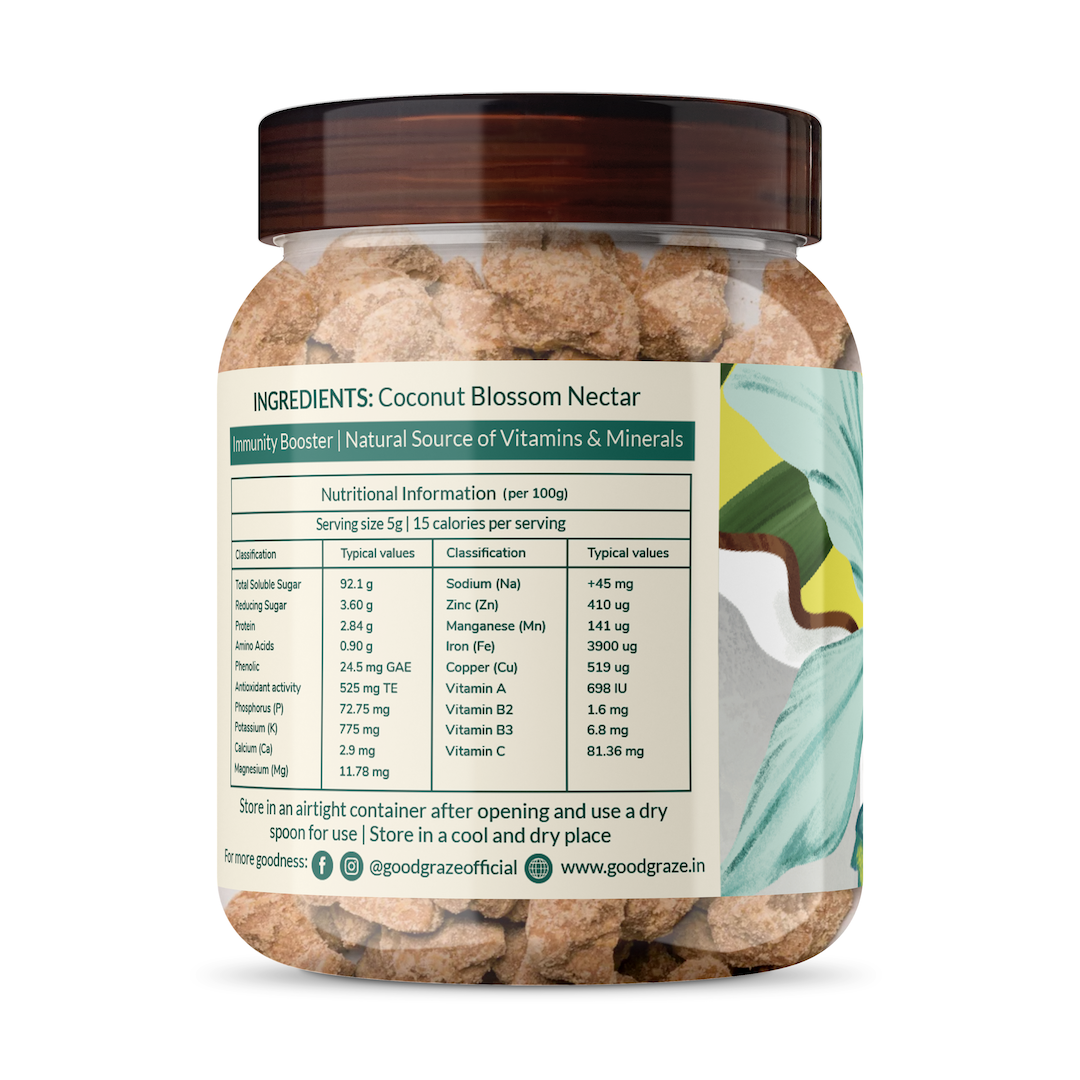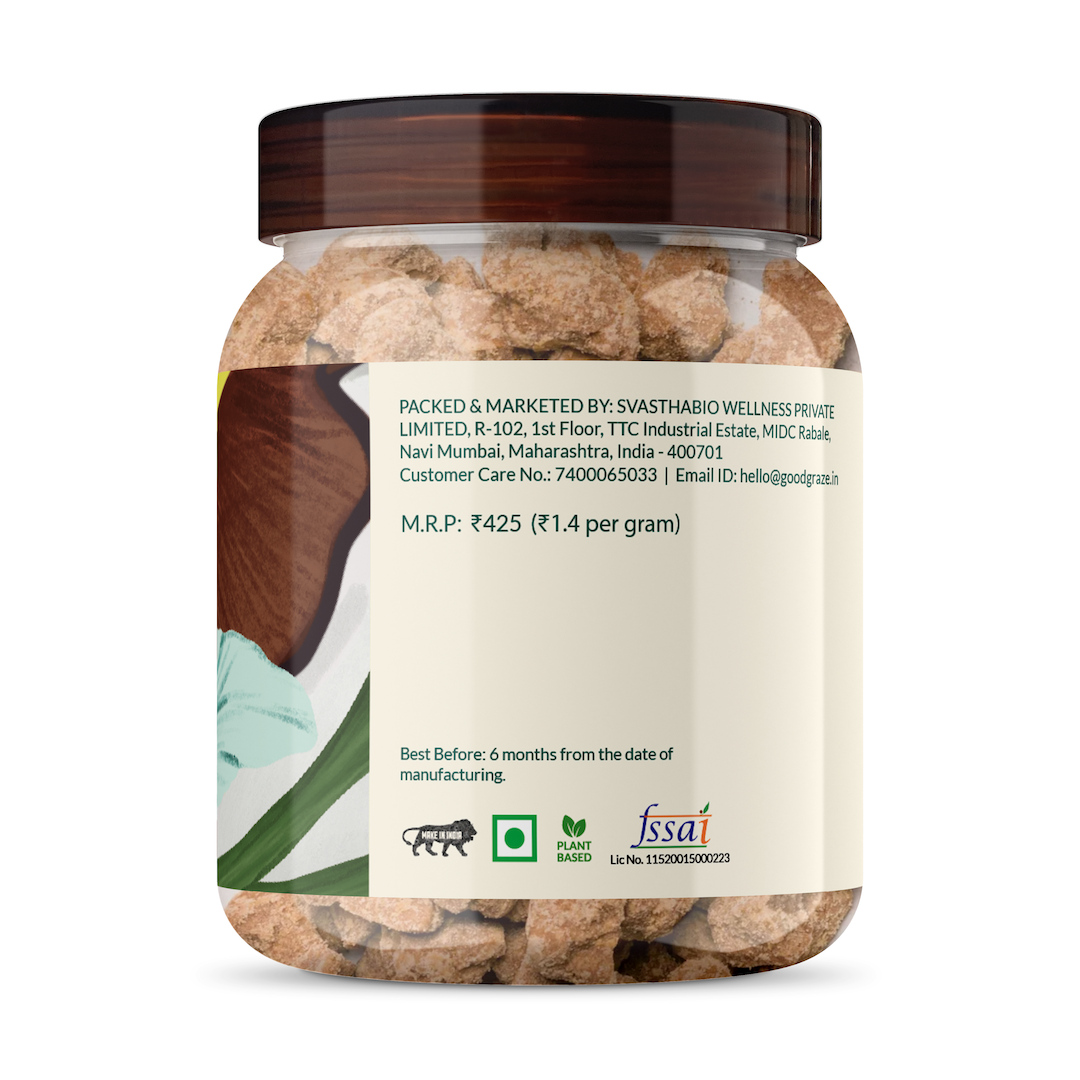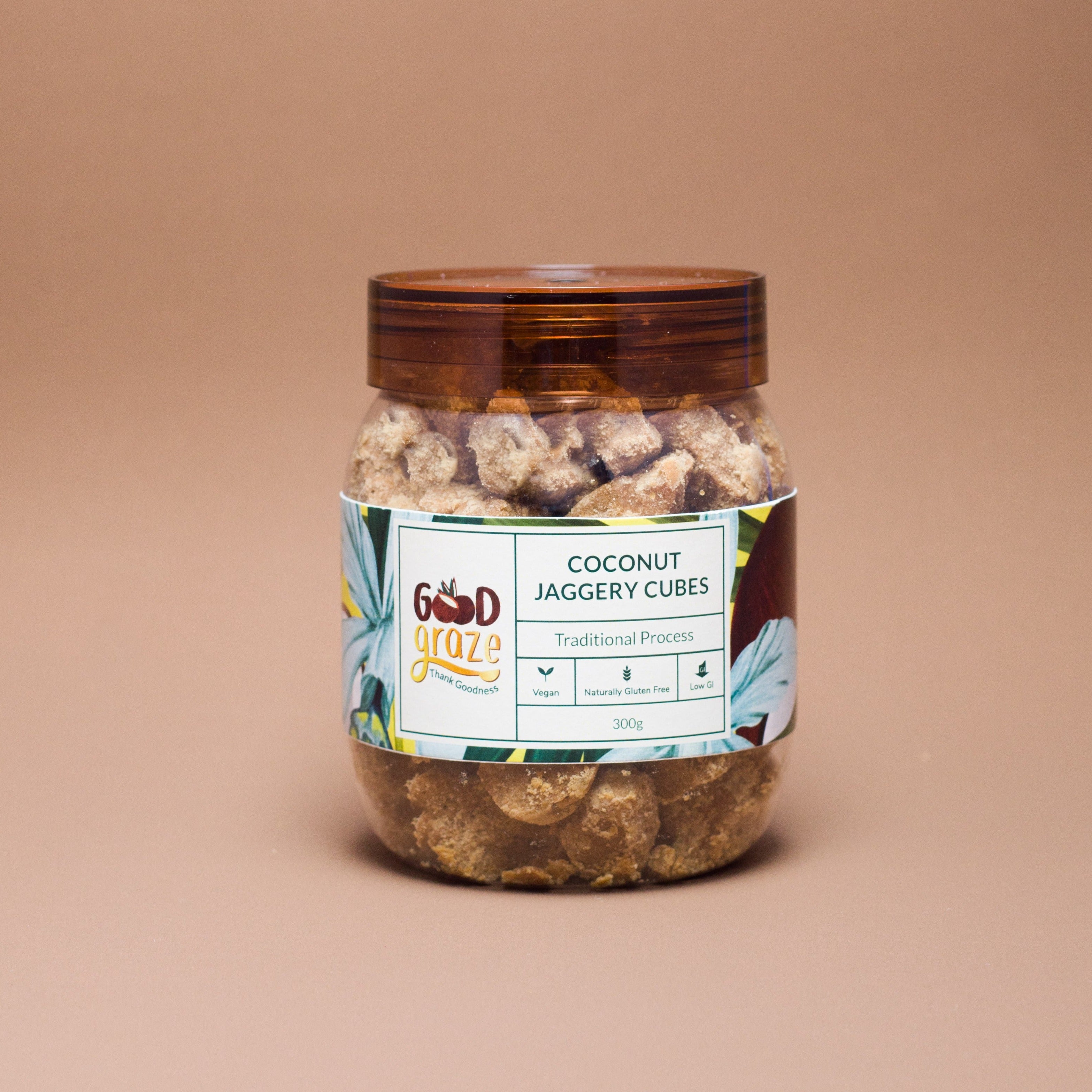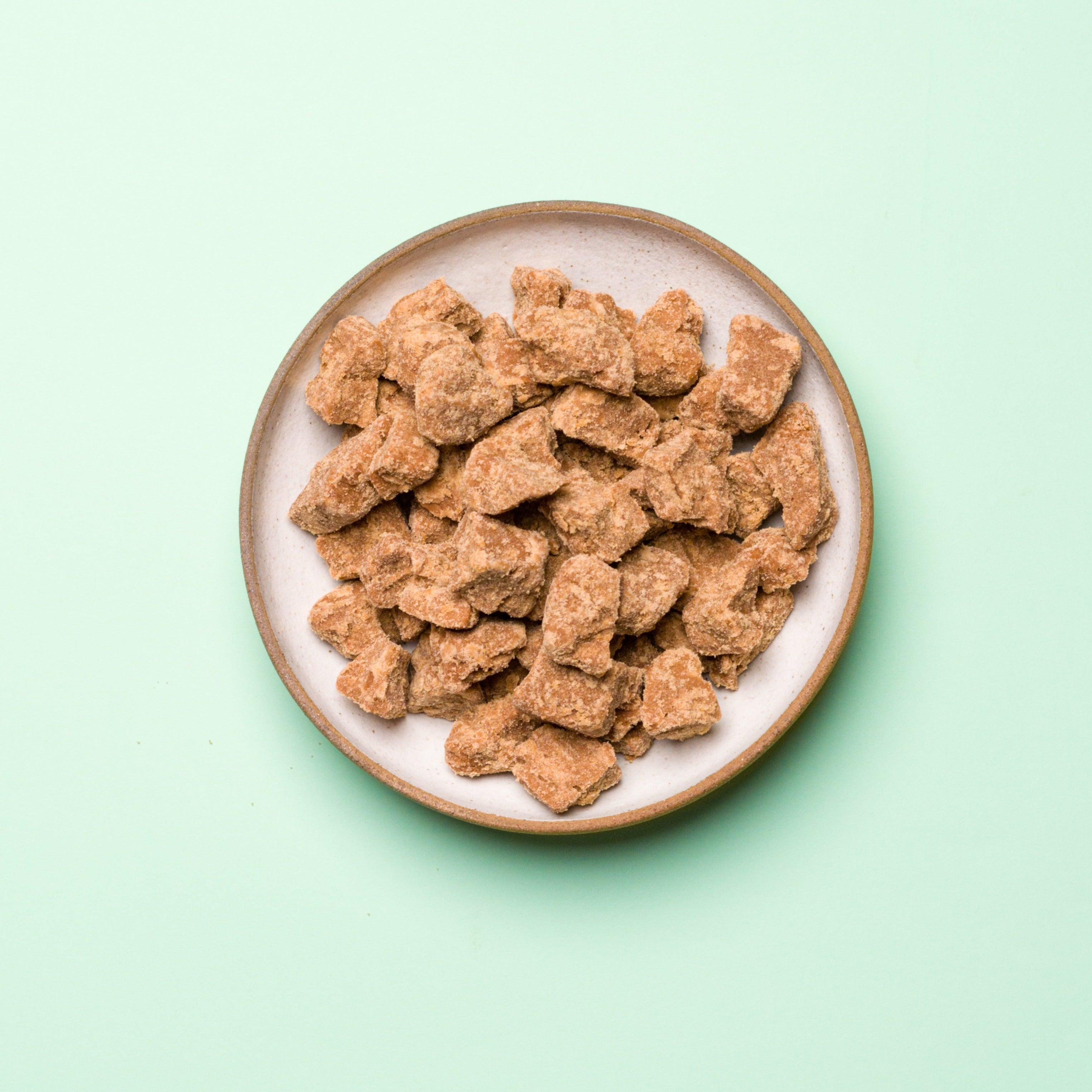 Coconut Jaggery Cubes • 300g
Coconut jaggery is a natural and unrefined sweetener derived from the sap of coconut palm trees. It undergoes minimal processing and retains some of the nutrients present in the sap, including minerals such as iron, zinc, and potassium.


Ingredient List - Coconut Flower Blossom Nectar

Net Qty - 300 g

Shelf Life - 6 Months.
Packaging Type -
 Food grade PET jar 
Nutritional Info -
- Store in a cool dry place away from direct sunlight
- Close the lid securely after use

- Can be dissolved in hot or cold beverages to add natural sweetness and flavor.
- They are bite sized and can be eaten post a meal to curb your sweet tooth.
- Used as a substitute for white or brown sugar in baking recipes.
- Adds a unique caramel-like flavor to cakes, cookies, muffins, bread, and other sweet treats.
- Incorporated into sauces and dressings to enhance their taste.
- An essential ingredient in dishes like payasam or kheer, ladoos, halwa, and many more.
- Add to homemade granola, cereal bars, or energy bars to provide sweetness and bind the ingredients together.
- Use in various traditional sweets and condiments across different regions of India.

Retains some of the minerals present in the sap, including iron, zinc, potassium, and small amounts of antioxidants.

Lower glycemic index (GI) compared to refined sugar.

Antioxidant content in it helps protect the body against oxidative stress and may have various health benefits.

Contains inulin, a prebiotic fiber that reduces sugar highs and keeps the gut happy.

Suitable for children, adults, and people aiming for a healthy lifestyle.

Free from chemical additives, artificial colors, and bleaching agents commonly used in the refining process.

Not an ordinary jaggery
I enjoyed the aftertaste of coconut that it leaves.
Sweet
Test is amazing...My mother likes this...Thank u Good Graze..
Works for me
Overall it is a good option for people who are diabetic or do not prefer sugar
Fantastic taste
Great flavor and texture. With time, it becomes tastier the darker it gets. Highly suggested
Superb Product!!
I bought it for my family and they loved it.