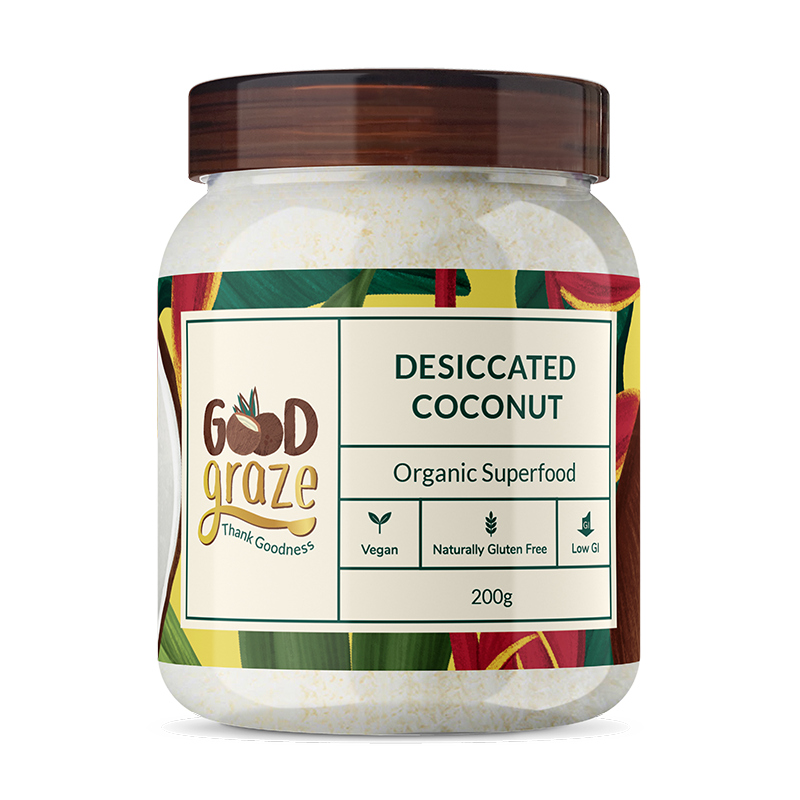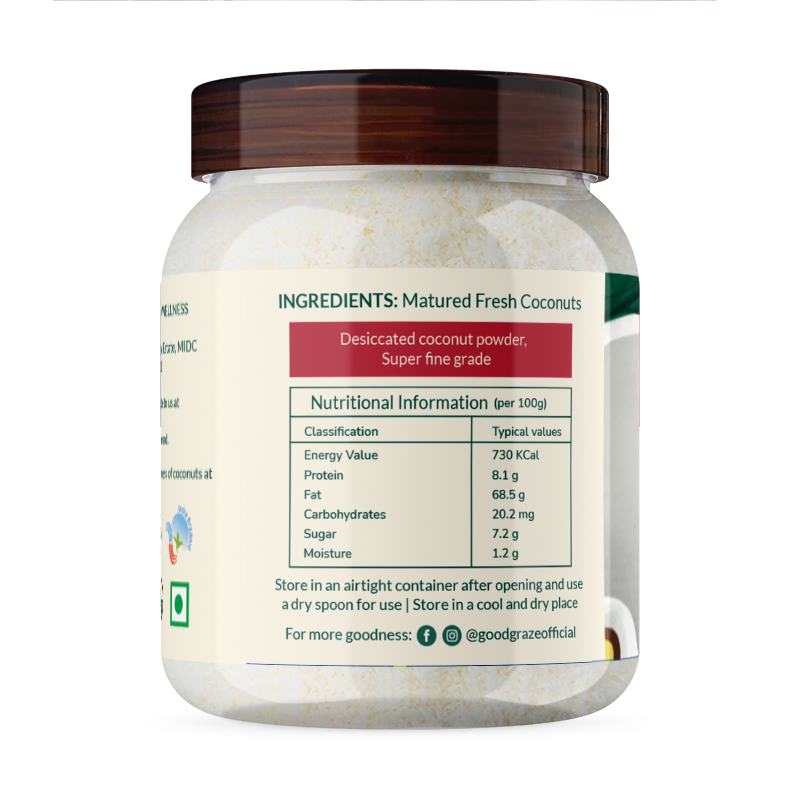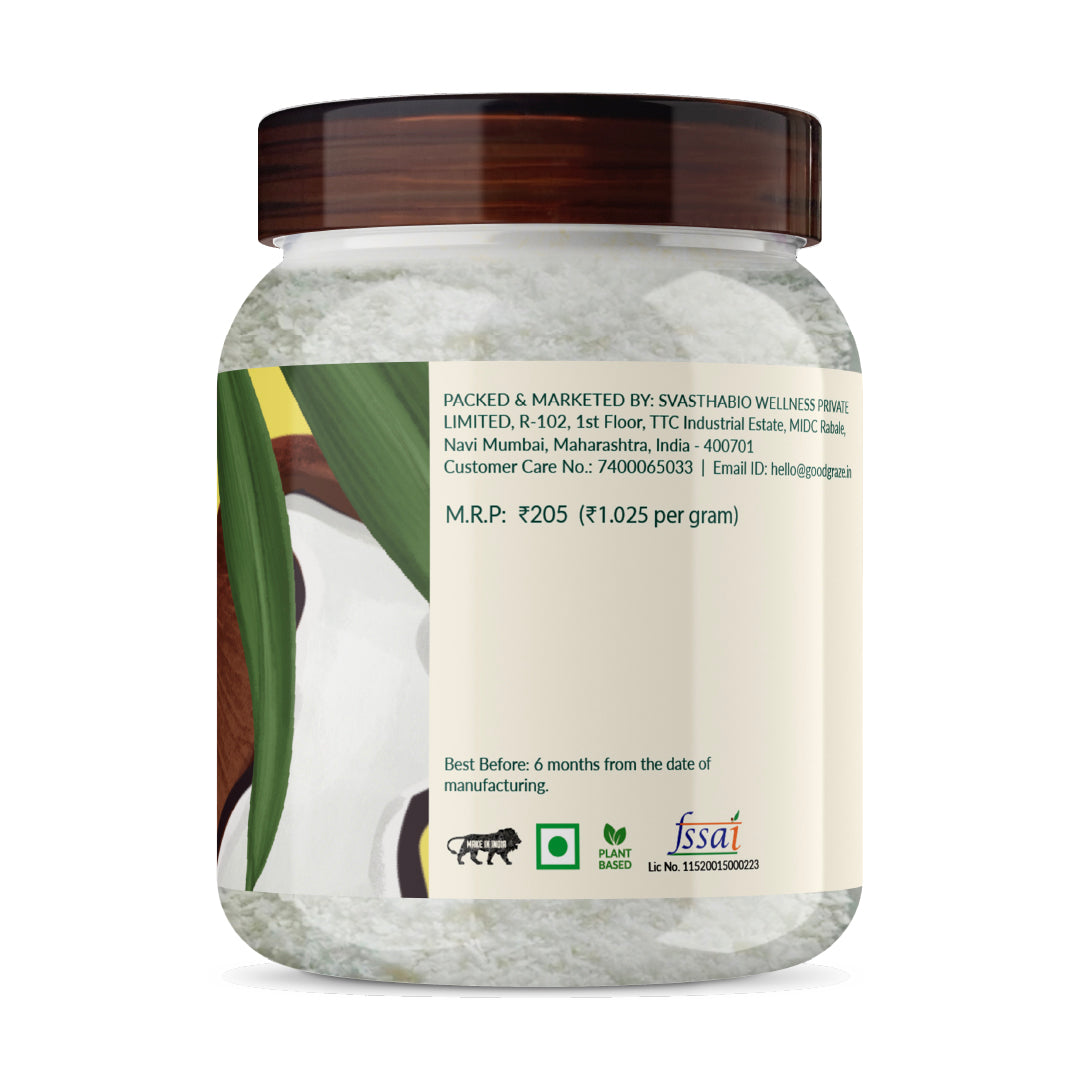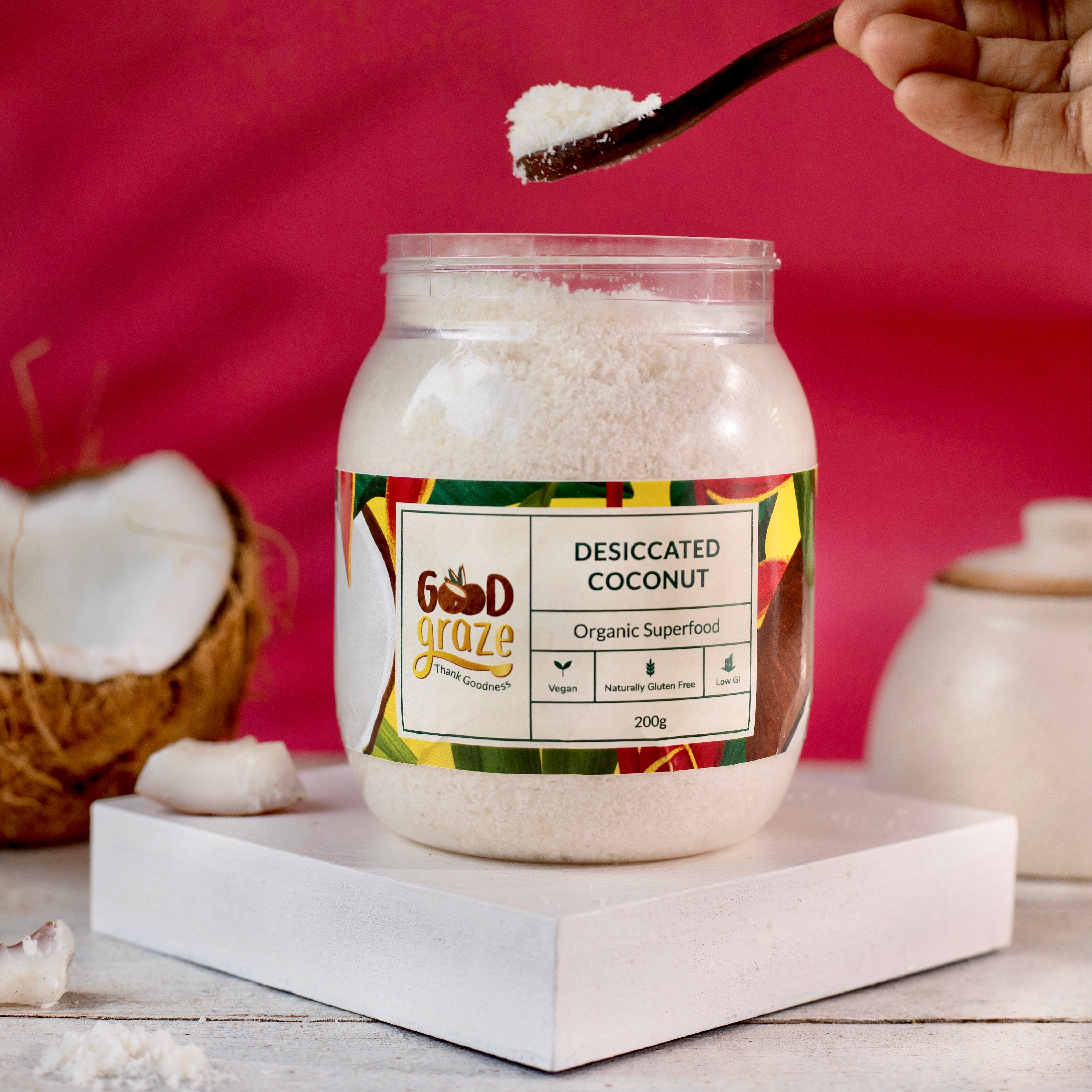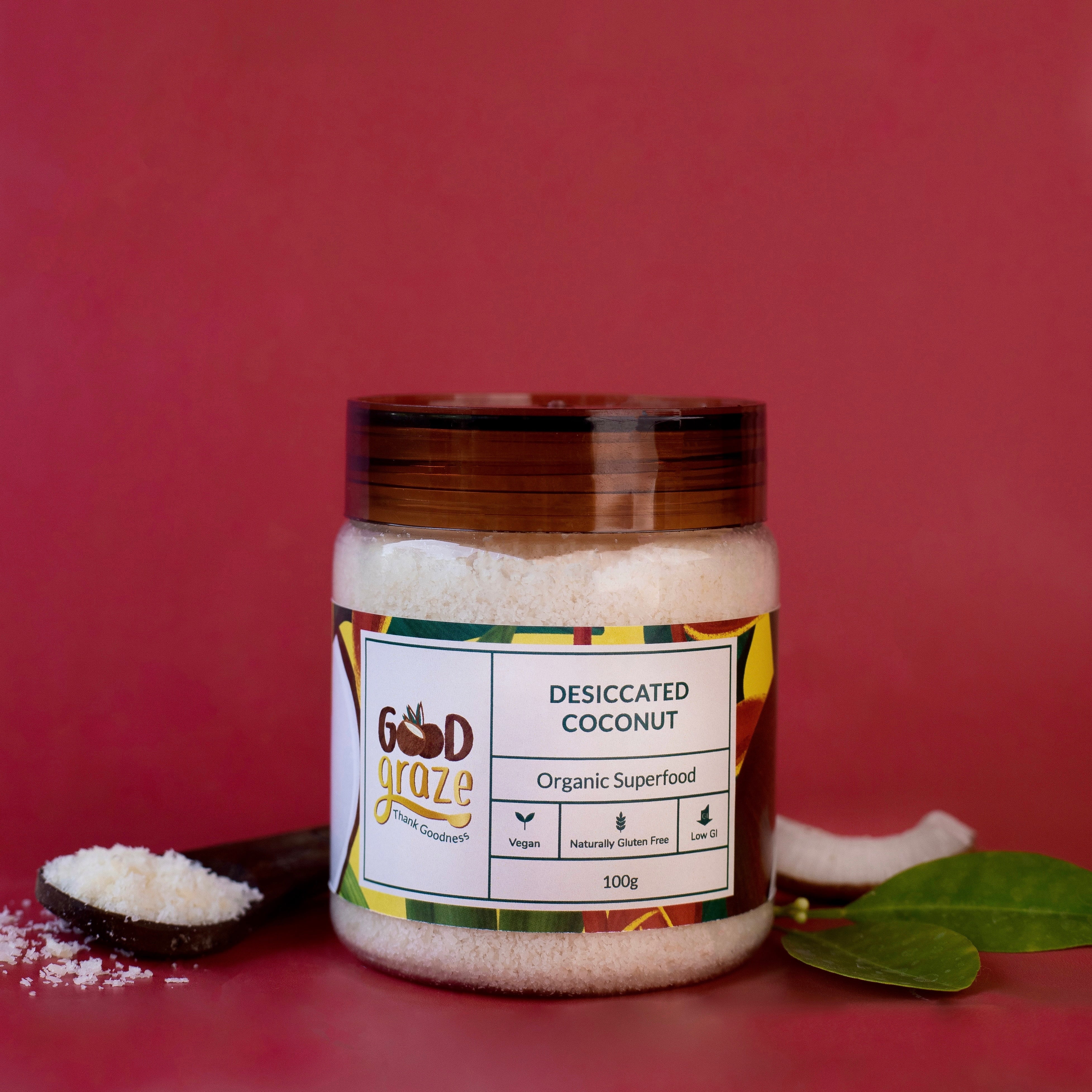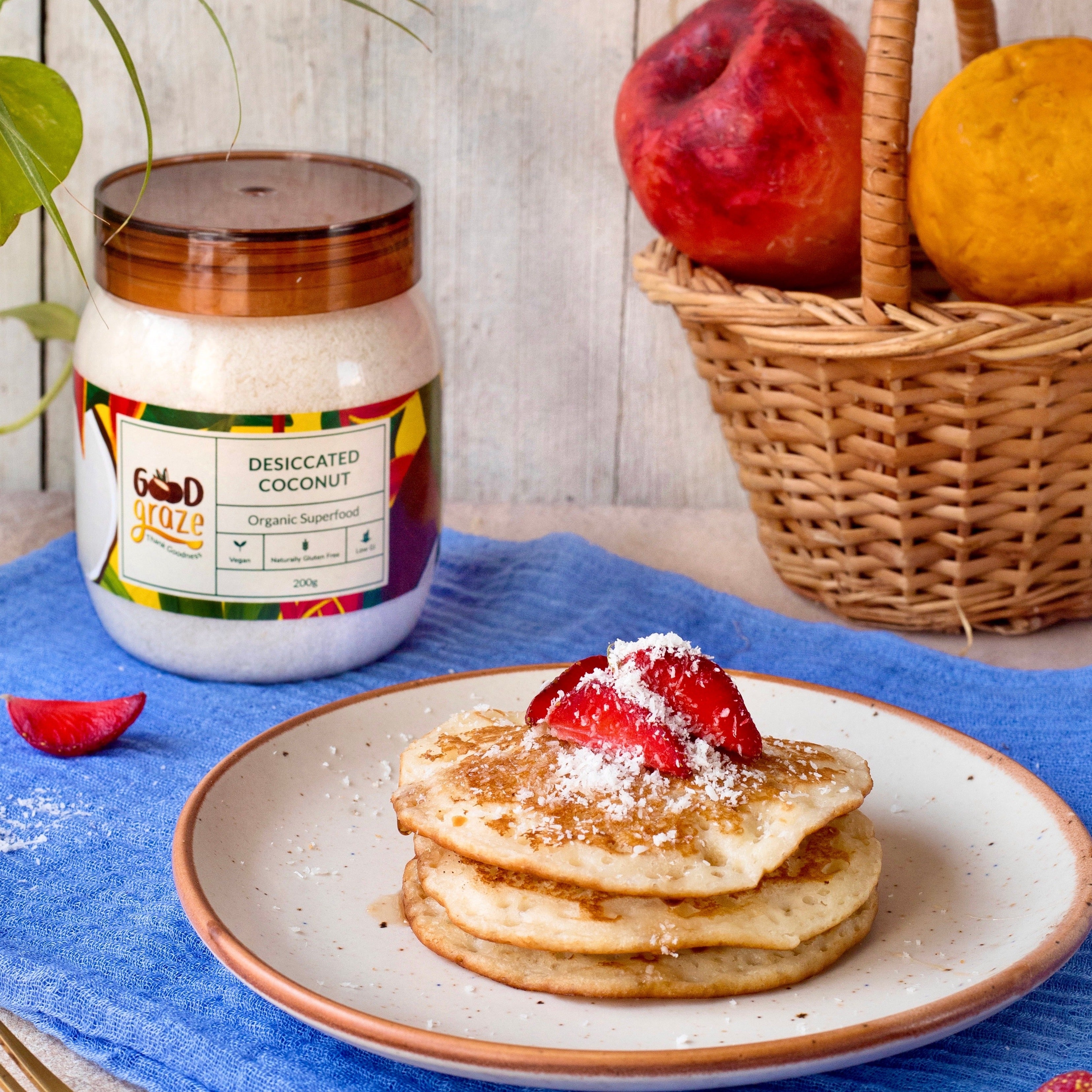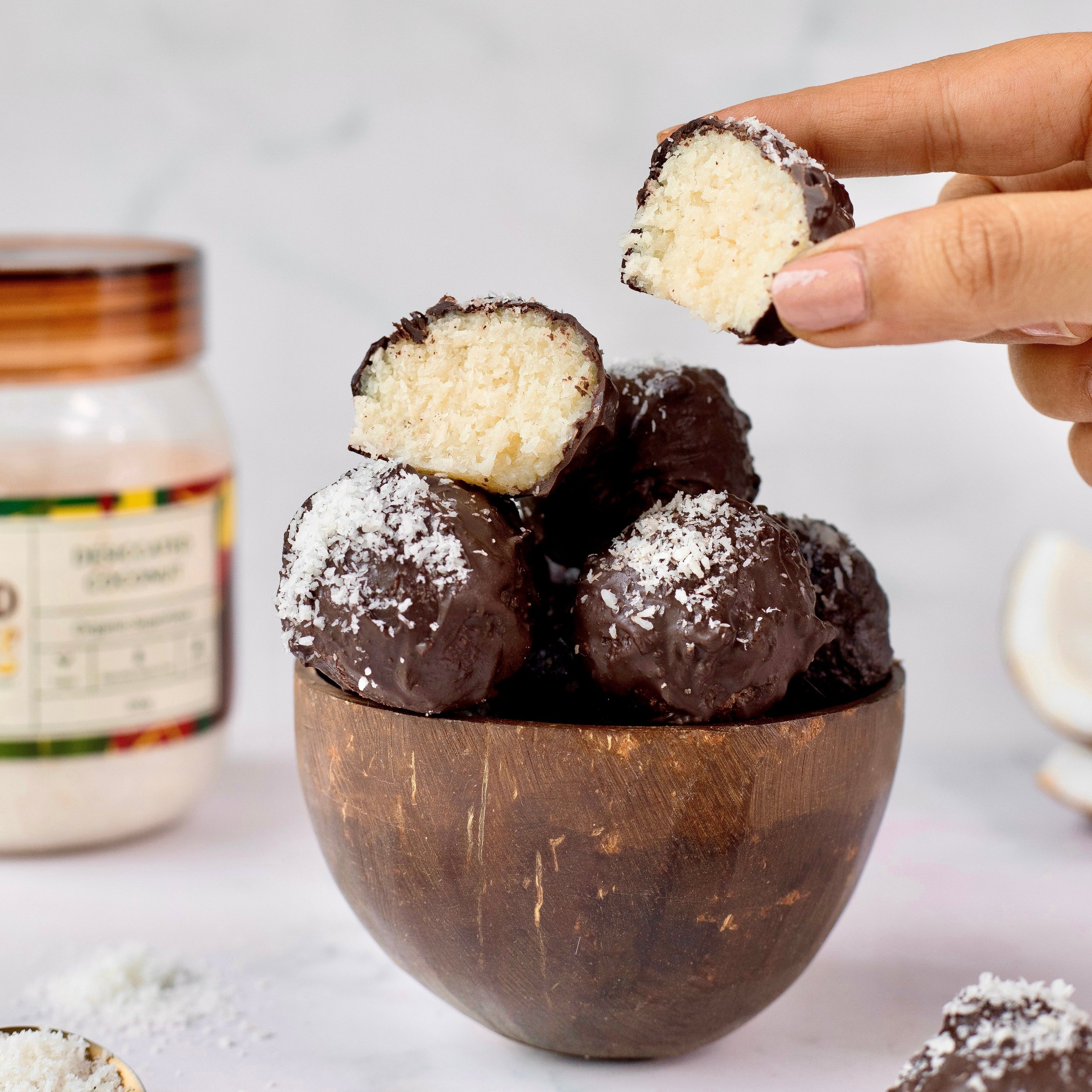 Desiccated Coconut
Our desiccated coconut is made from blanched coconut, ensuring pure white, eye-catching flakes that exude elegance and charm. Each delicate flake is a testament to the meticulous processing that retains the coconut's inherent goodness.

Ingredient List - Desiccated coconut powder, superfine grade.

Net Qty - 100 g or 200 g
Shelf Life - 6 months

Packaging Type - Food Grade PET Jar

Nutritional Info -
- Store in a cool dry place
- Use a dry spoon
- Close the lid securely after use

- Commonly used in baking recipes such as cakes, cookies, muffins, bread, and other baked goods to enhance their flavor and texture.
- Sprinkle on top of puddings, custards, and fruit salads.
- Use it in the filling of pies, tarts, and bars, adding a tropical twist to the sweet treats.
- It can be mixed with melted chocolate to make chocolate-coated coconut balls or used as a filling for chocolates.
- Add to smoothies and shakes to provide a creamy texture and coconut flavor.
- Blends well with fruits, yogurt, and other smoothie ingredients, creating a tropical and refreshing beverage.
- Use it in curries, stews, and rice dishes to add a subtle coconut flavor and to thickens the sauce.

Contains essential nutrients such as dietary fiber, healthy fats, vitamins, and minerals.

Rich in healthy fats, including medium-chain triglycerides (MCTs).

Contains dietary fiber which is important for maintaining a healthy digestive system which in turn promotes regular bowel movements, helps prevent constipation, and supports gut health.

Naturally gluten-free.

Suitable option for individuals with gluten sensitivity or celiac disease.

My go-to ingredient
For my Coconut Burfi, this is my first choice.
purest sweetest desiccated coconut ever
I have tried many desiccated coconut in the past, but before good graze, I always needed to add some sugar or something else like cocoa nibs , so I could consume the powdered coconut, but with good graze it has a pure innate sweetness to it, can easily be consumed raw without anything else, also its much fine than other, which tend to be bit thick and coarse