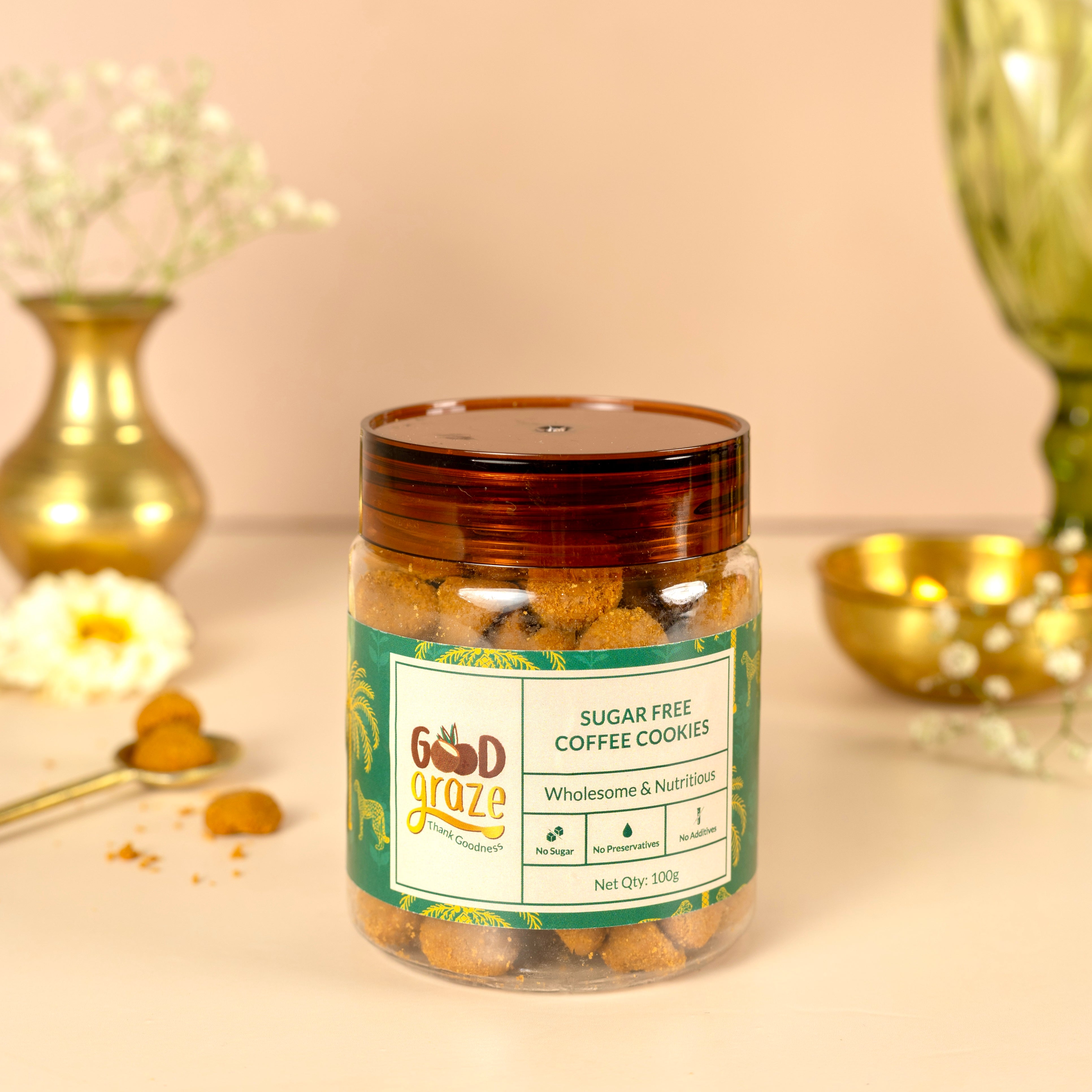 Sugar Free Coffee Cookies • Pack of 2 • 200 g
Made with the finest coffee and premium ingredients, these cookies are a delightful blend of sweetness and caffeine kick. With each bite, you'll experience the perfect harmony of buttery, melt-in-your-mouth goodness and the bold, aromatic essence of freshly brewed coffee. Whether you're starting your day or enjoying a cozy afternoon break, our Coffee Cookies are the perfect companion for coffee lovers seeking a delectable treat.

Ingredients - Wheat Flour, Oats Flour, Refined flour, Coffee, Kokum Butter, Xylitol, Natural Vanilla Extract, Himalayan Rock Salt

Net Qty - 200gm

Shelf Life - 6 Months

Packaging - Food-grade PET jar

- Store in a cool & dry place, away from direct sunlight.
- Close the lid securely after use.
- Once open, store in the fridge to maintain freshness

Enjoy them as a simple and wholesome snack straight out of the jar. The combination of organic coconut and vanilla extract makes these cookies a delightful treat for any time of the day.
- Good Graze Coffee Cookies are packed with a blend of wheat flour and oats flour, providing essential carbohydrates for sustained energy throughout the day.
- Sweetened with Xylitol, these cookies offer a delicious sweetness without the high sugar content, making them a smart choice for those watching their sugar intake.
- Infused with coffee, these cookies deliver a dose of antioxidants, which can help protect cells from oxidative damage and promote overall health.
- Enhanced with natural vanilla extract, these cookies offer a delightful flavor without the need for artificial additives or flavorings.