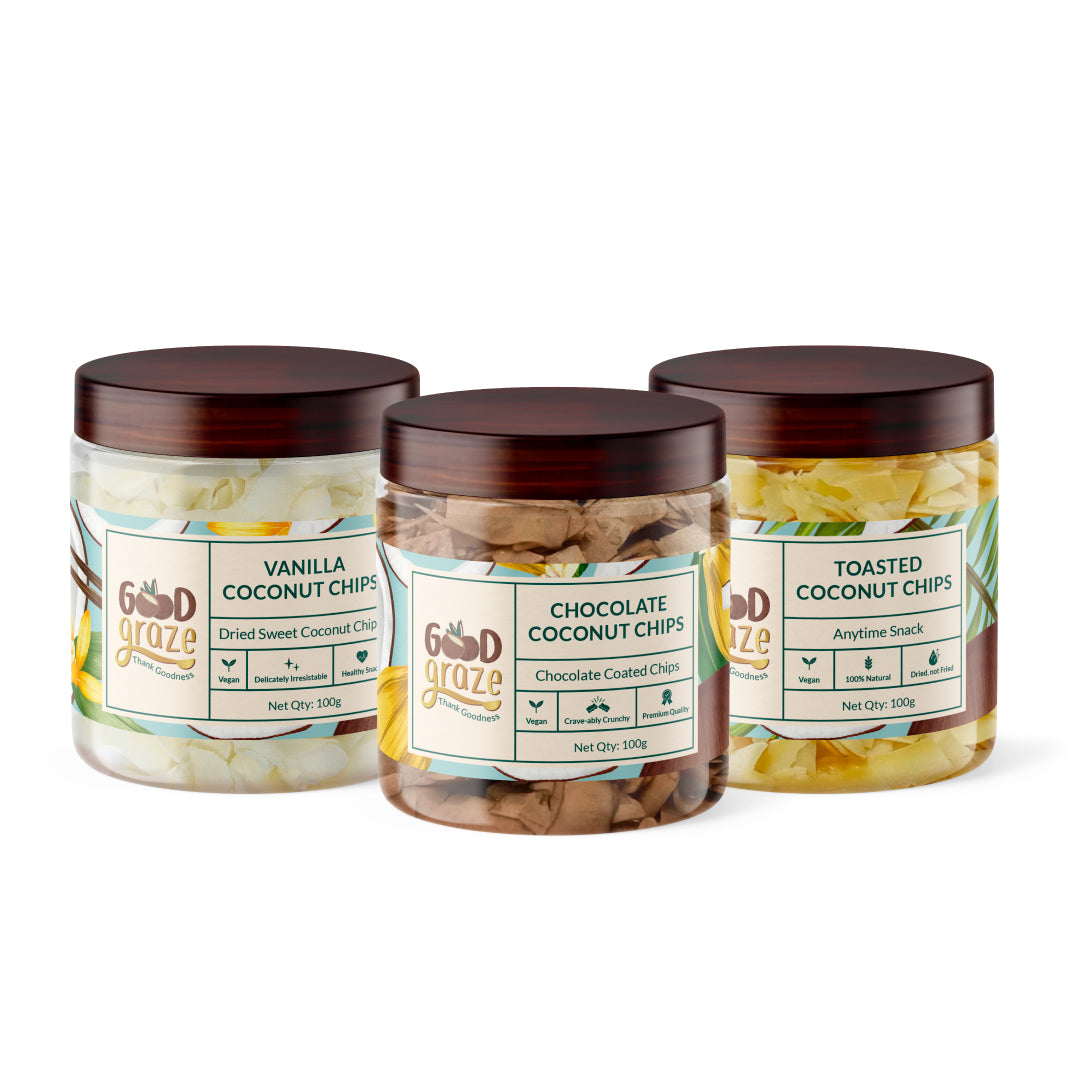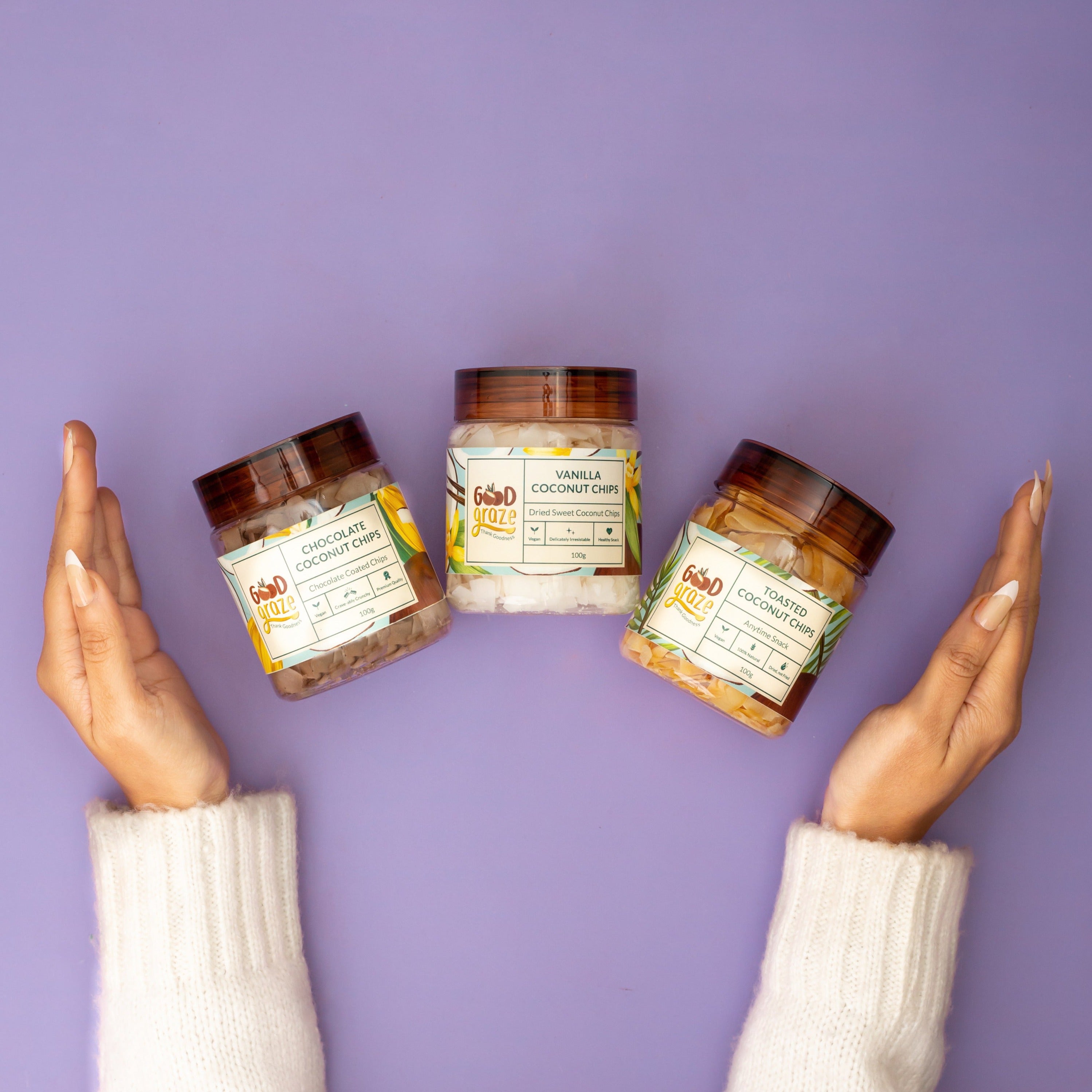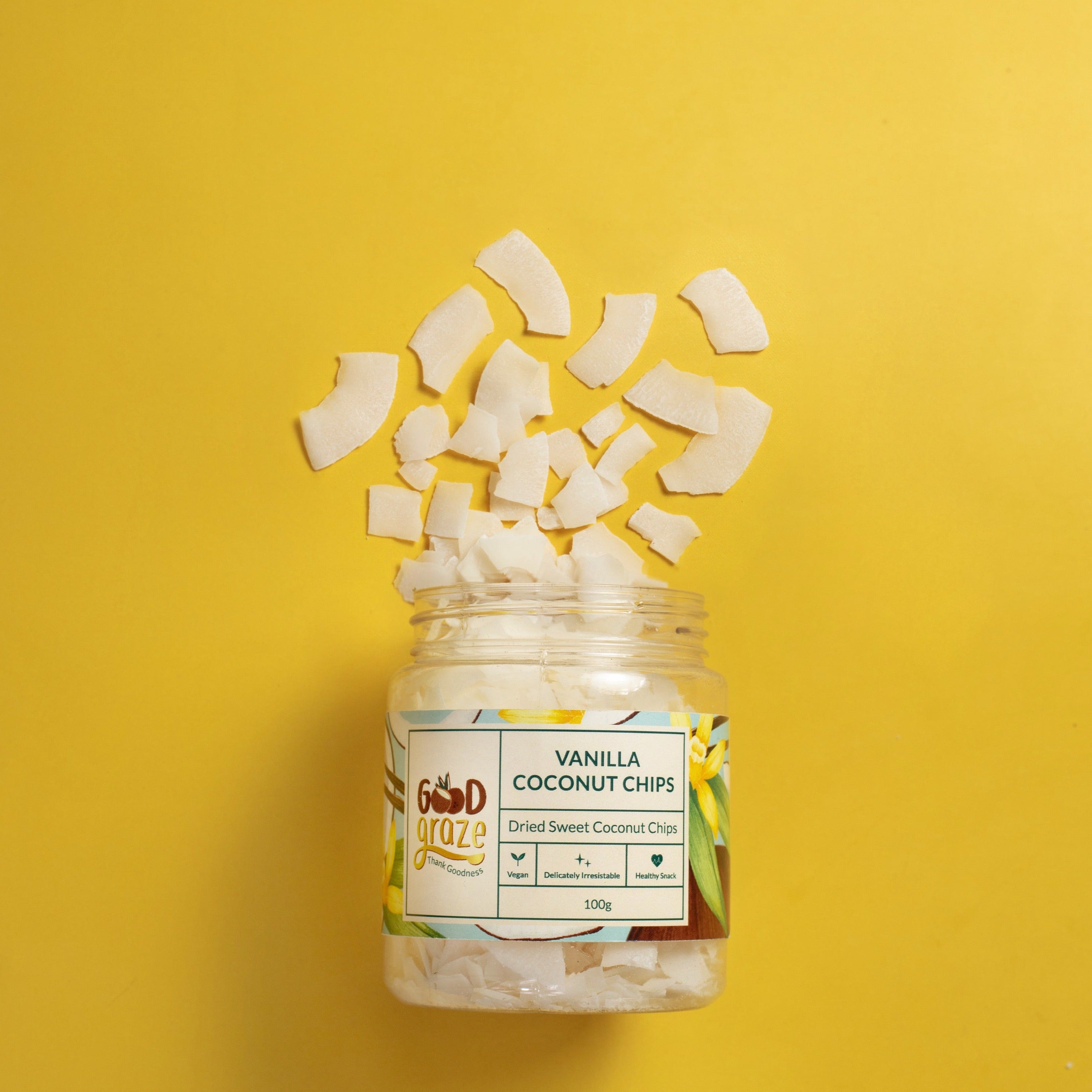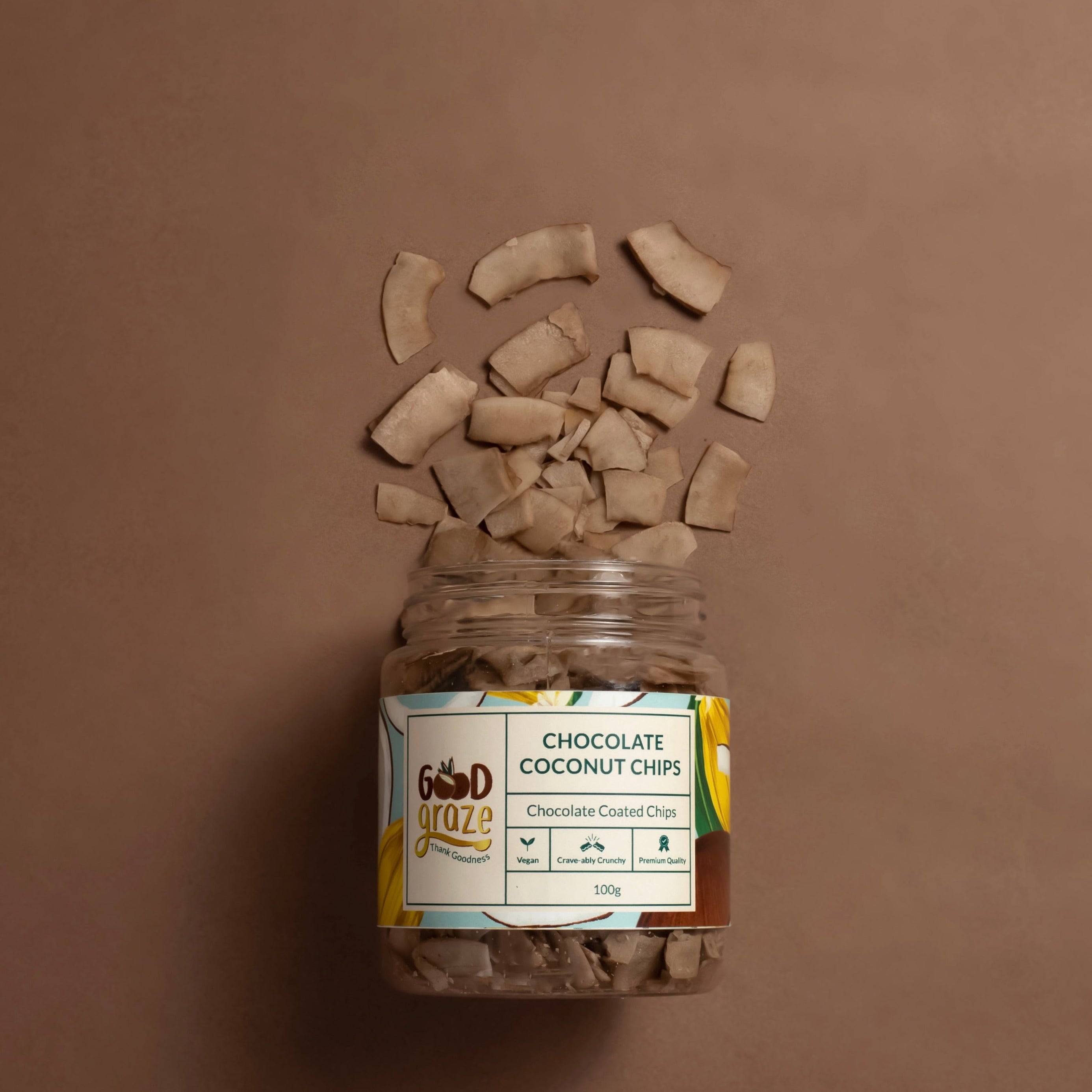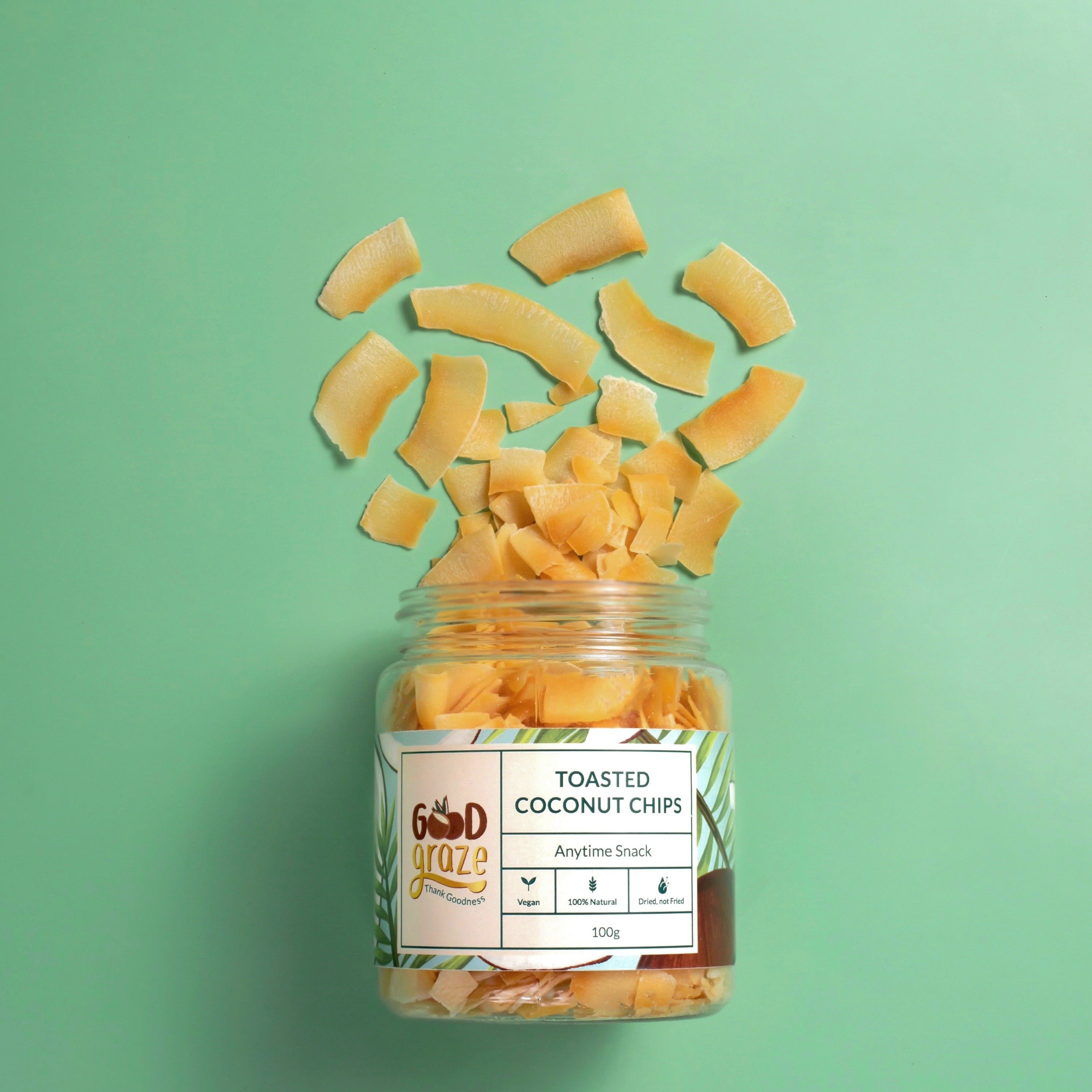 Variety Coconut Chips • Pack of 3 • 300g
These crunchy, refreshing & scrumptious coconut chips are made in small batches with whole-dried coconut and come in 3 scrumptious flavors- Toasted, Vanilla & Chocolate Loaded with fiber and the goodness of coconuts, these can be enjoyed any time of the day and are loved by all age groups.
Ingredient List
-
Vanilla Coconut Chips: Coconut Slices, Coconut Sugar, Salt, Vanilla
Chocolate Coconut Chips: Coconut Slices, Coconut Sugar, Chocolate, Salt
Toasted Coconut Chips: Coconut Slices, Coconut Sugar, Salt
Net Qty
-
Pack of 3 - 300gm
Shelf Life
-
 6 Months
Allergen Information - This may contain traces of tree nuts.


Packaging Type
-
Food grade PET jar
Nutritional Information - 


Vanilla Coconut Chips 

Chocolate Coconut Chips

Toasted Coconut Chips

- Store in a cool dry place
- Close the lid securely after use

- Enjoy them straight out of the jar for a satisfying and nourishing snack between meals or while on the move
- Sprinkle the chips over yogurt, smoothie bowls, salads, or desserts to add a tropical twist and a delightful crunch
- Incorporate them into your baking recipes, granola bars, trail mixes, or savory dishes for added texture, flavor, and a touch of tropical paradise

Packed with essential nutrients that are a good source of dietary fiber, healthy fats, and minerals such as iron and potassium.

Contain healthy fats, including medium-chain triglycerides (MCTs).

Good source of dietary fiber.

Coconut chips can be enjoyed in a variety of ways as a snack on their own or used as a topping for smoothie bowls, salads, yogurt, or baked goods.

Provides you with a satisfying snack that keeps you feeling full and nourished between meals.

All flavors are Good
I liked all the flavors. but toasted is awesome.
I will definitely order it again.
Taste is good, absolutely worth purchasing,
Perfect Binge Snack
These are my favourites to binge on. They're super crispy and fresh and just has that feel good factor and If you're looking for that crunch this is it!
Pro tip : Perfect snack to keep in the car while you're stuck in traffic.